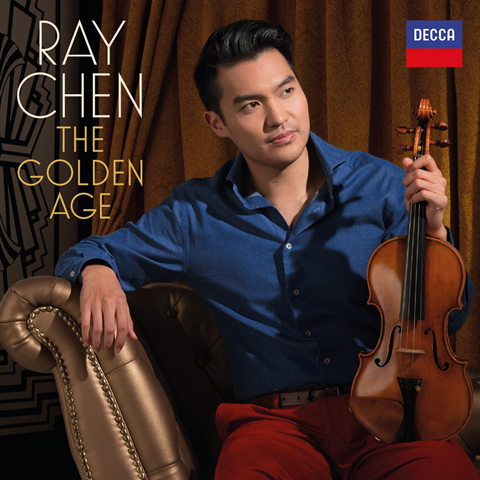 The Strad Issue: September 2018
Description: Big-hearted performance of Bruch plus some tasty sweetmeats
Musicians: Ray Chen (violin), Julien Quentin (piano), Made in Berlin, London Philharmonic Orchestra/Robert Trevino
Works: KONCZ/SATIE A New Satiesfaction, KREISLER Syncopation; Schön Rosmarin, PONCE Estrellita (arr.Heifetz), BRUCH Violin Concerto no.1 in G minor op.262, DEBUSSY Clair de lune (arr. Koncz), GERSHWIN Summertime (arr. Heifetz), SCOTT Lotus Land (arr. Kreisler), TRADITIONAL Waltzing Matilda (arr. Koncz)
Catalogue Number: DECCA 483 3852
The Golden Age referred to here is that of Heifetz, Kreisler and the composers on the disc. The big centrepiece is Bruch's First Concerto, in which Chen from the beginning displays ample resources of the necessary tonal beauty and theatrical dash, with a ready supply of thrilling stratospheric swoops.
The opening melody of the central Adagio is beautifully shaped, and he launches into the finale with crispness of attack and dynamic energy; when he reaches the big tune on the G string he sounds as if he's almost digging it out of the instrument. This is a big-hearted performance, exciting and Romantic in the best sense.
Nothing else on the CD lasts much over five minutes. Some of the tracks feature Chen's string quartet, Made in Berlin, whose cellist Stephan Koncz has provided the music. A New Satiesfaction (featuring Gymnopédie no.1) is a jazzy, smoochy piece which gets quite hectic, a long way from Satie's contemplation of a Greek urn.
Chen's Australian roots are reflected in a jolly account of Waltzing Matilda. In the Kreisler and Heifetz tracks Chen shows warmth and humour. The recorded sound is clear, with Chen very much front and centre.
TIM HOMFRAY