Richly characterised musical postcards for armchair travellers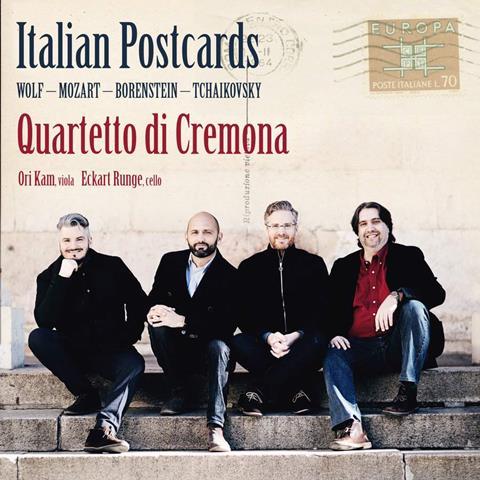 The Strad Issue: January 2021
Description: Richly characterised musical postcards for armchair travellers
Musicians: Ori Kam (viola) Eckart Runge (cello) Quartetto di Cremona
Works: Wolf: Italian Serenade. Mozart: String Quartet in G major K80 'Lodi'. Borenstein: Cieli d'Italia. Tchaikovsky: Souvenir de Florence
Catalogue number: AVIE AV2436
You would expect a native ensemble to have strong ideas about the inner character of these 'Italian Postcards' from foreign composers, and the Quartetto di Cremona writes home in thick Gothic script where other quartets prefer a lighter ink and a more fluid hand. In Wolf's Italian Serenade; the players underline Wolf's harmonically unstable idiom, the nervous intensity and even neurosis of the Serenade's central section.
Applied to very early Mozart, first violin Cristiano Gualco's wide vibrato flirts with outright anachronism. The brilliance of the Minuet's semiquaver sequences is lent an uncomfortable glare by both the forceful attack of the playing and some unflatteringly close engineering.
The carefree rhapsody of Cieli d'Italia, commissioned for the album from Nimrod Borenstein, is soon darkened by false relations and rhythmical dislocations that italicise and isolate the score's symbolically 'Italian' elements. The Quartetto's close-set sound and intense engagement also emphasise vibrant Russian colours over the neo-Classical elegance of Tchaikovsky's sextet; the stillness and gentle economy of gesture in the Novus Quartet's recent account emphasise the 'Souvenir' aspect, while the Cremonese and their friends bring Florence to life in the here and now.
PETER QUANTRILL
Reference
Quartetto di Cremona: Italian Postcards