More Tertis transcriptions in a delightful double-viola celebration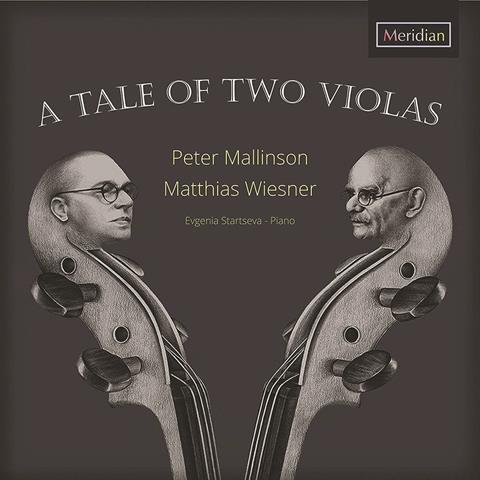 The Strad Issue: September 2019
Description: More Tertis transcriptions in a delightful double-viola celebration
Musicians: Peter Mallinson (viola), Matthias Wiesner (viola), Evgenia Startseva (piano), Anneke Hodnett (harp), Michael Atkinson (cello), Nicholas Bayley (double bass)
Works: BACH Brandenburg Concerto no.6 (arr. Farrington), SCHUBERT Allegretto (arr. Tertis), BRIDGE Caprice (ed. & compl. Rowland-Jones), HAWKINS At Two, VITALI Suite (arr. Borisovsky), DOWLAND Elizabethan Melody (arr. Tertis), TERTIS Variations on a Passacaglia of Handel, BENDA Sonata in D major for two violas (arr. Borisovsky)
Catalogue Number: MERIDIAN CDE 84652
In this sequel to their first CD from 2017, Peter Mallinson and Matthias Wiesner further explore the repertoire of transcriptions made by Lionel Tertis and Vadim Borisovsky. The latter's 'free arrangement' of a Trio Sonata by Benda indulges the violas with dramatic recitatives and cadenzas while having them locked in cooing 3rds and 6ths for the duration. Mallinson and Wiesner follow Borisovsky's idiosyncratic editing faithfully, with sonorous results. Here and in the Vitali arrangement, Borisovsky's inventive treatment of the continuo is a constant source of innocent joy. Iain Farrington's arrangement of the Brandenburg 6 is much more restrained, to the benefit of Bach's part-writing. No trills are added at cadential moments, but the interpretation features many attractive touches.
With his Variations on a Passacaglia of Handel, Tertis reportedly wished to 'go one better than Mr Halvorsen', and the result is indeed hair-raisingly virtuosic, with some rather outlandish harmonies thrown in. Mallinson and Wiesner take the intricate passagework, chord playing and bowing extravaganzas comfortably in their stride. Tertis's Dowland arrangement is mellifluous enough, but it is Schubert's Allegretto – the Trio from the G major String Quartet's Scherzo – that has been haunting me for days now.
Bridge's Caprice – companion to the well-loved Lament – is presented in an effective performing version elaborated from the composer's sketches by fellow violist Simon Rowland-Jones. Hawkins's At Two, commissioned by the present players and the only original composition on this recital, evokes an earnest sound world, perfectly caught by the interpreters, who are distinctly placed left and right of the sound stage and wrapped in an agreeable acoustic.
CARLOS MARÍA SOLARE