Breathtaking vividness and attention to detail illuminate this collection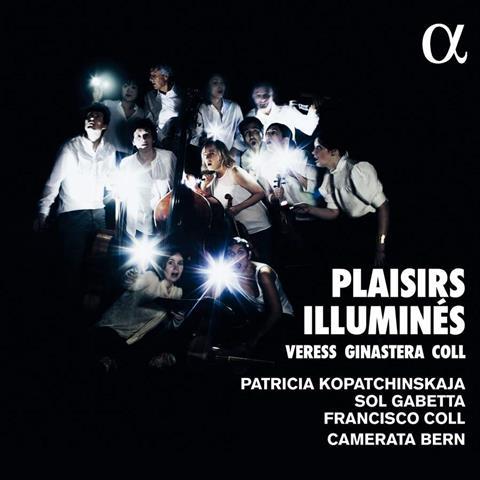 The Strad Issue: March 2021
Description: Breathtaking vividness and attention to detail illuminate this collection
Musicians: Patricia Kopatchinskaja (violin) Sol Gabetta (cello) Camerata Bern/Francisco Coll
Works: Veress: Musica concertante per 12 archi. Bartók: Duo Pizzicato. Ginastera: Concerto per corde op.33. Ligeti: Baladă şi joc. Kurtág: Jelek VI (Signs, Games and Messages), Coll: Les Plaisirs Illuminés; LalulaLied
Catalogue number: ALPHA 580
The word 'vivid' might be something of a cliché in classical CD reviews, but it hardly gets close to describing these fiercely committed, microscopically detailed, grab-your-attention-and-don't-let-go performances from violinist Patricia Kopatchinskaja and Camerata Bern, where she's artistic partner. That breathtaking vividness is most clearly on display in the 2018 double concerto by Spanish-born Francisco Coll that gives the disc its title: inspired by a Dalí painting of the same name, it's a hallucinatory showpiece that veers wildly between dream and nightmare, and draws impeccable, high-precision playing from Kopatchinskaja and her co-soloist Sol Gabetta, both beautifully supple in their responsiveness to Coll's fantastical invention.
Kopatchinskaja kicks the disc off with a thoroughly persuasive account of Sándor Veress's Musica concertante for 12 archi, written for Camerata Bern in 1966, and offering plenty of opportunities for the ensemble's soloists to shine, which they do spectacularly. And it's hard not to get completely caught up in the heart-on-sleeve expressionism of Ginastera's Concerto per corde of the same year, from its sinister, volatile Scherzo to its thrillingly energetic Finale, full of bite and furious energy – and the ideal vehicle for Kopatchinskaja's intense approach.
Smaller chamber pieces by Kurtág, Bartók and Ligeti provide moments of respite from the frenzied invention around them, though Coll's LalulaLied – written for Kopatchinskaja to vocalise as well as play – seems a little arch. Nonetheless, this is a thrilling disc, demanding and somewhat draining both physically and emotionally, but it makes a strong case for these lesser-known works in performances that frankly couldn't be much more dramatic. Recorded sound is appropriately close and detailed.
DAVID KETTLE