Works by wildly contrasting composers partnered together are a revelation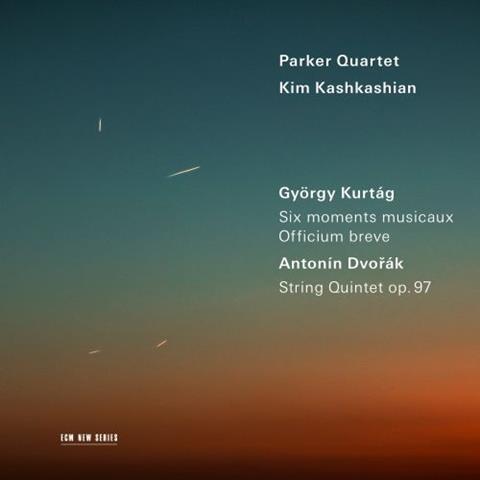 The Strad Issue: December 2021
Description: Works by wildly contrasting composers partnered together are a revelation
Musicians: Parker Quartet, Kim Kashkashian (viola)
Works: Kurtág: Six moments musicaux op.44; Officium breve op.28. Dvořák: String Quintet op.97
Catalogue number: ECM 2649
Formed in Boston almost 20 years ago by students at the New England Conservatory of Music, the Parker Quartet count violist Kim Kashkashian and composer György Kurtág among their mentors, both of whom feature on this, the quartet's first disc for ECM.
Dvořák's Quintet (featuring Kashkashian) at first seems an unlikely partner to the two Kurtág pieces, and there's no surprising revelation to counter this after hearing the disc as a whole; but that's a minor quibble when the playing is as generous and committed as this. With a pert, upbeat sound, Dvořák's first movement shines with optimism and sprung rhythms. The precision and joie de vivre continue in the rustic second movement, and the poise of the Larghetto variations movement contrasts with the good-natured jolliness of the Finale.
But it's the spare, perfectly crafted sound world of Kurtág that draws the best playing. The 15 micro movements of Officium breve (1988–9) are austere and uncompromising but the performance is fearless yet probingly beautiful. In the Six moments musicaux (2005), the Parker Quartet – brilliantly captured in this recording – conjures a kaleidoscopic, post-Expressionistic range of mood and atmosphere, ranging from searing vertical sheets of dissonance to barely perceptible glowing half-lights. The result is nothing short of astonishing.
EDWARD BHESANIA