Final thoughts from a much-lamented violinist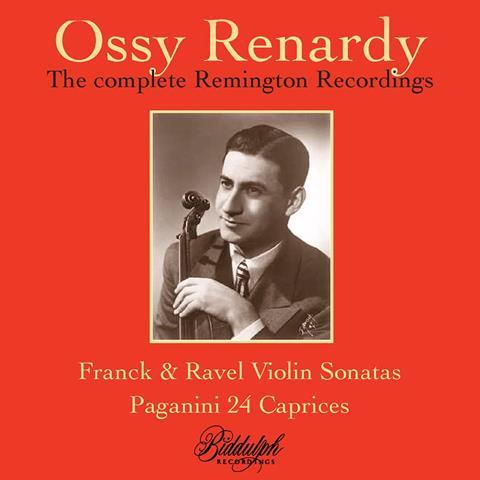 The Strad Issue: September 2022
Description: Final thoughts from a much-lamented violinist
Musicians: Ossy Renardy (violin) Eugene Helmer, Eugene List (pianos)
Works: Franck: Violin Sonata in A major. Paganini: 24 Caprices op.1 (arr. David). Ravel: Violin Sonata in G major
Catalogue number: BIDDULPH 85016-2 (2 CDS)
These were the last recordings made by the legendary Viennese fiddler Ossy Renardy (1920–53) before his untimely death in a car crash. Taped for the Remington label, they feature his 1743 'Paganini-Carrodus' Guarneri 'del Gesù' and have been well refurbished from the original LPs.
It was the second time Renardy had documented the 24 Caprices but by 1953 such colleagues as Ricci and Kogan had started playing them minus piano and Ricci had recorded them (in 1950, not 1947 as sometimes stated).
I find Ferdinand David's accompaniments, competently played by Eugene Helmer, a constant irritant; and Paganini playing has moved on – among recent recordings Ning Feng stands out for dispatching the Caprices with perfect technique, while also bringing out their narrative quality. Renardy is at his best when making operatic gestures (such as in nos.7, 8, 11 and 21).
In technique and intonation he is mostly splendid: nos.14 and 16 are a little strained (he opts for the shortest version of 14); while the tricky no.12, which Rachel Barton Pine dubbed the 'ugly duckling' – she now loves it – is both dodgily tuned and rather nondescript. Otherwise all is well: arpeggios, octave trills, staccato volante, ricochet, 3rds, 6ths, octaves, 10ths, G-string solos (nos.18 and 19) are grist to Renardy's mill; and his violin rings out, despite the 'historic' sound quality.
The sonatas with the virtuoso Eugene List are marvellous – I did wonder if the violin is fractionally favoured within the balance. In the Franck the two distil a fine blend of declamation, intensity and Innigkeit, culminating in a terrific ending, while the Ravel is the essence of insouciance and cool, with excellent bowing in the finale. Both performances have many beauties.
TULLY POTTER