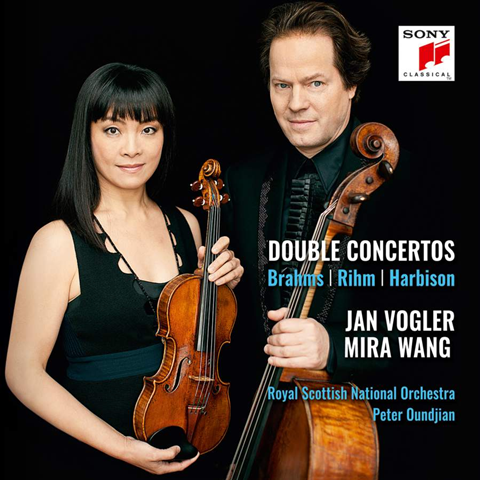 The Strad Issue: August 2018
Description: Poise and clarity in a trio of concertos for violin and cello duo
Musicians: Mira Wang (violin) Jan Vogler (cello) Royal Scottish National Orchestra/Peter Oundjian
Works: BRAHMS Concerto in D major for violin, cello and orchestra op.102. HARBISON Double Concerto 'to the memory of Roman Totenberg'. RIHM Duo Concerto for violin, cello and orchestra
Catalogue Number: SONY CLASSICS 19075836752
When Vogler and Wang first played Brahms's 'Double' Concerto in 1996 they lamented the fact that there was so little else available for that combination of instruments. Both the other works on this disc were subsequently written for them. Rihm's Duo Concerto of 2015 is a one-movement work lasting just over 20 minutes. He keeps his soloists busy, with Wang nimble and silver-toned and Vogler strong and expressive beneath. They respond deftly to constant shifts of character, restless one moment, calm and probing the next with long, dreaming lines in the central slow section.
In his Double Concerto of 2010, also around 20 minutes long, Harbison creates a luminous sound world through which the soloists roam questingly, often in rhythmic accord. In its central Notturno they weave around each other with subtle lyricism, and in the finale seem to be attempting a hoedown. Through it all the playing is poised and beautiful.
Wang and Vogler's Brahms is expansive, always ready to slow down and enjoy an exquisite moment. There is supple playing in the first movement and languid elegance in the second; the finale has twinkling charm as well as energy. Oundjian and the RSNO are fine collaborators, and the recorded sound is clear and spacious.
TIM HOMFRAY