A fittingly devoted finale to a major Haydn project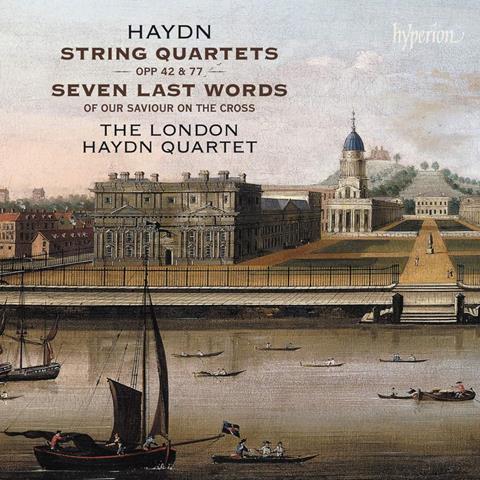 THE STRAD RECOMMENDS
The Strad Issue: June 2023
Description: A fittingly devoted finale to a major Haydn project
Musicians: London Haydn Quartet
Works: Haydn: String Quartets: in D minor op.42, in G major op.77 no.1, in F major op.77, op.51 'Seven Last Words'
Catalogue number: HYPERION CDA68410 (2 CDs)
The gut strings and 1798 Artaria edition manifest one standard of authenticity for these Seven Last Words, a work commissioned for the Good Friday service of a church in Cádiz. More important, though, is the devotional quality of the London Haydn Quartet's playing, and how subtly attuned it is to the text underpinning the theme of each movement. Just enough vibrato warms the opening chords of 'Mother, behold thy son' to evoke the bond between the two. The lower voices come forward in the mix for the despair of 'Why hast thou forsaken me?' The fragile body and deathly pallor of 'I thirst' are painted as vividly as any Crucifixion scene by Murillo or El Greco.
Also written to a Spanish commission, op.42 makes a complementary pairing. 'The only great quartet that is easy to play,' according to Hans Keller, and the LHQ brings to it the same patience and intense focus as in its Seven Last Words. A radically slower than usual tempo for the first-movement Andante imbues it with a gravity that puts a new spin on the 'innocentemente' marking.
Every Mozartian twist of harmony in op.42's Adagio e cantabile is teased into place with a patience and equanimity that reaps even richer rewards in op.77, Haydn's last completed quartets. There is as much Romantically sonorous warmth to the Adagio of no.1 as there is tripping 'period' articulation to the following Minuet. Both inner movements of no.2 ebb and flow within and between phrases; the free-spirited fantasy of Catherine Manson's top line is just the icing on the cake.
PETER QUANTRILL