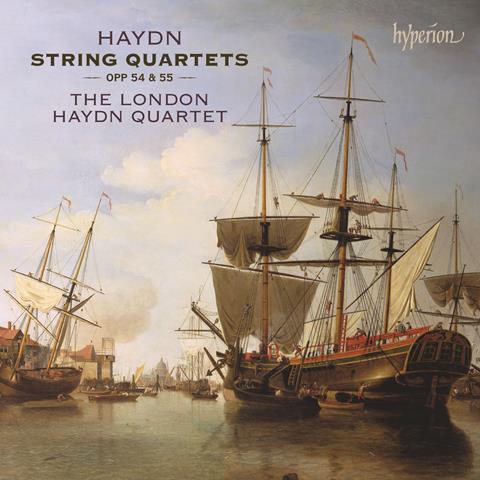 The Strad Issue: April 2017
Description: The rough and smooth go hand in hand in this London Haydn Quartet release
Musicians: London Haydn Quartet
Composer: Haydn
Catalogue number: HYPERION CDA 68160 (2CDs)
With this sixth double-disc release in its Haydn survey for Hyperion, the London Haydn Quartet, with its period instruments, reach the first set of 'Tost' quartets. In all, it's an impressive achievement, but there are gripes too. Occasionally, as in the first movement of op.54 no.1, phrasing is smoothed over where more articulation would help; the rubato here and there – notably the fantasia-like first-violin writing in op.54 no.2's slow movement – is exaggerated; and above the stave, the tone of Catherine Manson's first violin can sound a little thin and strained at first (watch out, lovers of full-fat modern instruments). Just occasionally, too, we miss a wider range of colouring and dynamics.
But the ensemble plays with unwavering unanimity, and with a natural elasticity in the slow movement of op.54 no.1; there are deft hushed echoes in the same quartet's finale, and the slow movement of op.55 no.1 combines reverie with forward momentum in graceful balance. Plus there's an eloquence in the overall playing that shines through. The fugue of op.55 no.2's second movement unfolds with satisfying assurance, but possibly most outwardly impressive is the exuberance (and, sometimes, the pace) of the finales. A clean yet warm recording aptly captures the purity of the largely vibratoless tones.
Edward Bhesania