Supple yet gentle approach to Haydn's op.76 makes for a winning formula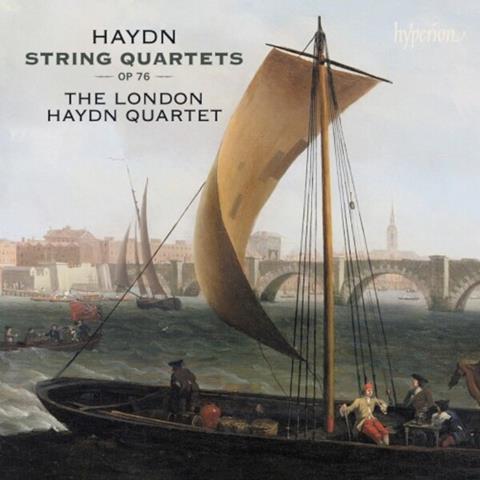 THE STRAD RECOMMENDS
The Strad Issue: May 2021
Description: Supple yet gentle approach to Haydn's op.76 makes for a winning formula
Musicians: London Haydn Quartet
Works: Haydn: Six String Quartets op.76
Catalogue number: HYPERION CDA 66335 (2 CDs)
Anyone who has yet to discover the special qualities of the London Haydn Quartet's ongoing Haydn series on period instruments – opp.9, 17, 20, 33, 50, 54/55, 64 and 71/74 are already available – should investigate this outstanding release without delay. If the Chiaroscuro Quartet (BIS) completely rethinks Haydn's dazzling invention with micro-inflected, fleet-fingered, sleight-of-hand transparency, the London Haydn Quartet combines the best of the old and the new with an unhurried spontaneity and enchanted affection that are deeply satisfying, captured in velvety, tactile sound, suggesting the open ambience of a chamber room at Esterháza.
The polar opposite of the bright and breezy, generic interpretative approach favoured by most ensembles, the LHQ plays with a gentle temporal fluidity and supple phrasal nuancing that creates the delightful impression of the music being composed as it goes along. Rarely has the pedal-pointed opening of the D major sounded so ravishingly alluring, nor the playful asides of the G major so beguiling, with the emphasis placed firmly on deftly articulated cantabile elegance rather than racy, ear-catching sonorities.
Theirs is essentially a gentle, intimately chamber-scale approach, avoiding pseudo-orchestral outbursts in the impassioned D minor 'Fifths', while exchanging emotionally monochrome, furrowed-brow tempestuousness for a captivatingly unforced soundscape, free of hackneyed interpretative rhetoric. Highly recommended.
JULIAN HAYLOCK