London quartets that are both satisfying and a little provocative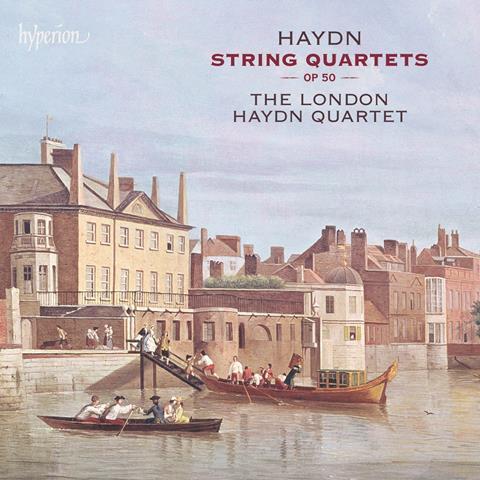 The Strad Issue: November 2019
Description: London quartets that are both satisfying and a little provocative
Musicians: London Haydn Quartet
Works: HAYDN String Quartets opp.71 and 74
Catalogue Number: HYPERION CDA68230 (2 CDs)
In these two sets of three quartets, Haydn brings the form he all but invented out from the privacy of the chamber, blinking into the sunshine of the concert hall. He had heard a pair of his op.64 quartets performed at the Hanover Square Rooms during his first London visit of 1791–2 and now composed something specifically for wider public consumption, at last revealing to his broadest audience yet the full breadth of tonal and textural opportunities offered by this combination of four similar instruments.
The London Haydn Quartet again opts to perform not from a modern scholarly edition but from one published during Haydn's lifetime: although the booklet is not explicit on this matter, it reproduces the title page of Artaria's 1790s 'Oeuvre 73' (which would be refashioned as op.71 by the end of the century). Catherine Manson leads from the front, employing telling and teasing rubato, while the whole edifice rests on the sure foundations of Jonathan Manson's full-toned cello. Gut strings offer sweetness in the more lively music but, perhaps paradoxically, a touch of graininess in slow movements, gratifyingly preventing them from being over-romanticised.
Each work opens with its own coup de théâtre, stilling the audience for the discourse to follow. The recording, though, continues with the close-miked intimacy of earlier volumes, capturing players' breathing and occasional artefacts of performance on older-style instruments. Some listeners may wish for more bravura in this newly public music; nevertheless, these LHQ readings maintain their reputation for the acute consideration they lavish on each paragraph, each sentence. As this cycle nears its conclusion – with only eight and a half more quartets to record, including the crowning masterworks of opp.76 and 77 – the LHQ continues to provoke but also, most importantly, to provide immense satisfaction.
DAVID THREASHER