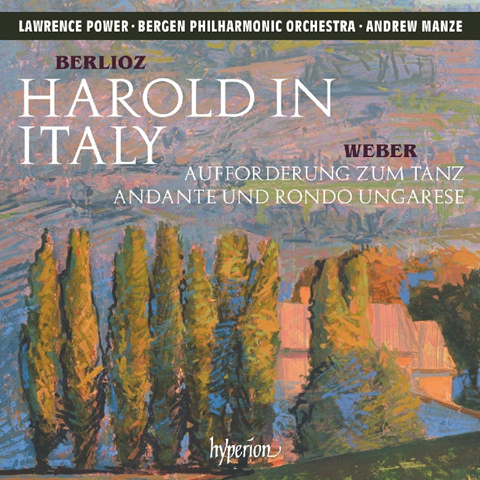 The Strad Issue: June 2018
Description: Berlioz's Italian adventurer receives a Classical treatment
Musicians: Lawrence Power (viola) Bergen Philharmonic Orchestra/Andrew Manze
Works: BERLIOZ Harold in Italy; La captive (arr. Manze). MARTINI Plaisir d'amour (arr. Berlioz/Manze). WEBER Andante e Rondo ungarese; Invitation to the Dance
Catalogue Number: HYPERION CDA68193
The pièce de résistance comes first: a reading of Berlioz's 'Symphony with a principal viola' in which Andrew Manze underlines the piece's Classical patterns with crisp tempos, taut rhythms and carefully graded accelerandos. The first movement's coda develops a dizzying momentum when reaching stepwise – as Berlioz prescribes – twice the speed of the beginning.
Both the pilgrims and the serenading shepherd that appear in the middle movements are rather lively fellows, and even the finale's carousing brigands come across as a most civilised lot in this brilliant performance by the Bergen Philharmonic. Observing all these goings-on, Childe Harold, aka Lawrence Power, is a contrastingly introverted chap, reluctant to raise his voice. Power's sound is of great sweetness throughout, and – discretely spotlighted by the vivid recording – he draws Berlioz's idiosyncratic phrases with a fine brush.
Of the two songs that follow, Plaisir d'amour – Berlioz's orchestration of the celebrated 18th-century chestnut – works best as an instrumental piece. For all of Power's ravishing tonal virtuosity, the melodic lines of La captive are just too closely linked to Victor Hugo's evocative verses to stand satisfyingly on their own.
Berlioz was a great admirer of Weber's music. He made his orchestration of Invitation to the Dance – here given a slightly stiff rendition – when some ballet music was required for a Paris revival of Der Freischütz. Weber's Andante and Hungarian Rondo is an effective piece that allows Power to display great tonal fantasy in the first section's variations, and there is an impish sense of humour in the rondo's various episodes.
CARLOS MARÍA SOLARE