Rare Polish Romantic concerto performed with a Hollywood smile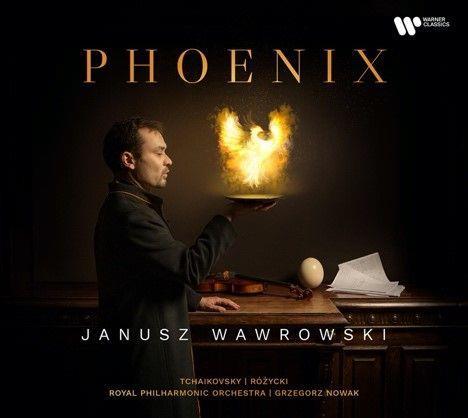 The Strad Issue: May 2021
Description: Rare Polish Romantic concerto performed with a Hollywood smile
Musicians: Janusz Wawrowski (violin) Royal Philharmonic Orchestra/Grzegorz Nowak
Works: Różycki: Violin Concerto. Tchaikovsky: Violin Concerto
Catalogue number: WARNER MUSIC POLAND 0190295191702
The discovery here is a retro-Romantic violin concerto, written in the depths of the last world war by Ludomir Różycki (1884–1953) but lost until recently. In operas such as Casanova and ballets such as Apollo and the Maiden, both recently revived, the composer's stylish eclecticism is anchored by a fastidiously refined, French-accented technique. As recorded here, the concerto is quite a witches' brew: Wawrowski has edited the solo part, and a 'team' led by Ryszard Bryła is credited with the orchestration.
Somewhere along the way, Różycki has gone (or been abducted) to Hollywood; I prefer the more restrained touch of Zygmunt Rychert, editor and conductor of a previous recording. The unusual two-movement form encloses a rapturous Andante within a folksy Scherzo-finale; more tracking points would make this clear. Playing a 1685 Stradivari, Wawrowski lavishes gold-and-silver tone and octaves gleaming with a George Clooney smile on a piece which both his written introduction and playing place in the company of Korngold and Barber; impressive on its own terms, but is it Różycki?
Given more than a helping hand by the engineers, Wawrowski also lays it on thick in the Tchaikovsky, especially in a very broad opening movement outdoing even Mutter and Karajan (DG) for soulful communing. Neither soloist nor conductor shows an appetite for the operatic dialogue which Jansen and Barenboim (Decca) bring to the Canzonetta. It's the Wawrowski show, and while he accents the finale's folk material with some polished charm, previous albums from the same label such as 'Hidden Violin' (2018 – including some Różycki) have done more justice to the music as well as the artist and his instrument.
PETER QUANTRILL