A refreshing artistic response to the pandemic from this gifted cellist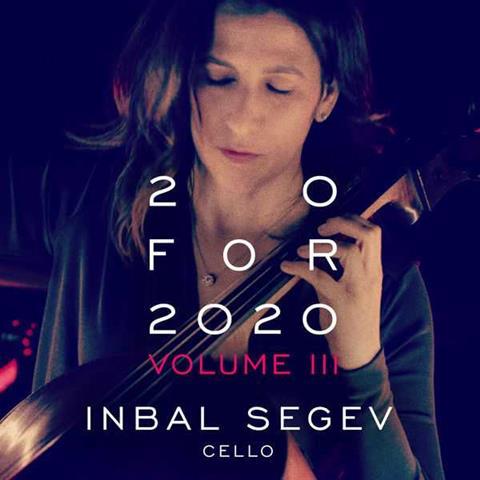 The Strad Issue: May 2022
Description: A refreshing artistic response to the pandemic from this gifted cellist
Musicians: Inbal Segev (cello) Ian Rosenbaum (marimba) Charlotte Mundy (voice) Christopher Tyler Nickel (oboe d'amore/cor anglais/bass oboe)
Works: Adams: A Weeping of Doves. Hailstork: Hora. Coates: Berceuse. Zubel: Unisono III. Nickel: Fractures of Solitude
Catalogue number: AVIE AV2464
Such is our collective experience over the past couple of years that the title of Israeli-born, US-based cellist Inbal Segev's '20 for 2020' project virtually speaks for itself. This third release collects together five of the 20 new cello works by contemporary composers that Segev commissioned with the aim of capturing aspects of the pandemic crisis in music, and also of imagining ways out of it.
It speaks volumes, in fact, that US-born, Munich-based Gloria Coates felt so floored by events that she was unable to offer an entirely new work, instead transcribing her brief Berceuse, originally for violin. And, despite the richness and seamless legato of her playing, Segev's account is surprisingly gutsy, even turbulent – an approach she maintains across all five pieces with varying degrees of success. She provides a gloriously vivid, switchback counterpoint to the startlingly strange vocals (nimbly supplied by Charlotte Mundy) and electronics in Agata Zubel's joyfully unhinged Unisono III, exploiting the cello's enormous range and sonic capabilities to the fullest.
Adolphus Hailstock tips his cap to Segev's heritage in his exuberant Hora, which imagines a traditional Jewish wedding dance, and draws lush, nuanced, never less than assertively projected playing from the cellist. There's an almost artificial sound, however, to Inbal's eight multitracked cellos in the closing Fractures of Solitude by Christopher Tyler Nickel, such is the strength and directness of her playing, and it's a nasal purity that also feels rather out of place in the thoughtful A Weeping of Doves by American environmental composer John Luther Adams, atmospheric though it is. The five pieces make a compelling collection, though a broader range of approaches might have served the music more fully.
DAVID KETTLE