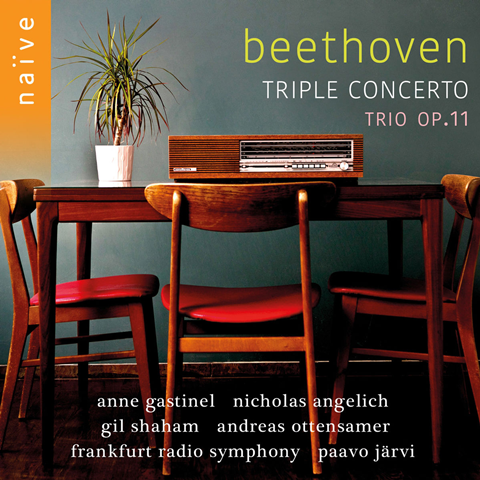 The Strad Issue: June 2018
Description: Superbly elegant ensemble work from a group of star soloists
Musicians: Gil Shaham (violin), Anne Gastinel (cello,) Andreas Ottensamer (clarinet), Nicholas Angelich (piano), Frankfurt Radio Symphony/Paavo Järvi
Works: BEETHOVEN 'Triple' Concerto op.56; Piano Trio no.4 in B flat major op.11 'Gassenhauer'
Catalogue Number: NAÏVE V 5418
The cellist Anne Gastinel gathered up the group of soloists for this recording, but they play with an ease and sense of shared identity that belies the short amount of time they were together. The passage heralding the recapitulation of the first movement, with the three of them swapping bits of phrases back and forth, is great fun.
The tone of cello and violin gleams, particularly as they rise to the heights of their instruments, and the piano playing is fluid and multicoloured. Gastinel is particularly eloquent, her phrasing heightened with little dynamic fluctuations. Her playing of the opening melody of the second movement largo is a thing of beauty, as is violinist Gil Shaham's when he joins her. His playing is always elegant, his passagework fluent and shapely.
Having got these players together, did Gastinel consider keeping them for the alternative line-up of the op.11 trio with violin, one wonders? Whatever the truth of the matter, Shaham makes way for clarinettist Andreas Ottensamer, whose playing is agile and firm-toned. All three performers shape the opening of the second-movement Adagio with tender care, and there is wonderful delicacy to follow. The finale is a zesty affair. The recorded sound is warm and well balanced in both works.
TIM HOMFRAY