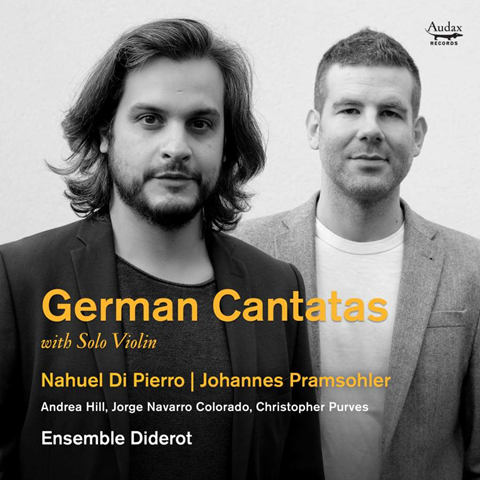 THE STRAD RECOMMENDS
The Strad Issue: September 2018
Description: Sacred duets for voice and violin deliver a little slice of heaven
Musicians: Andrea Hill (mezzo-soprano), Christopher Purves (bass-baritone), Jorge Navarro Colorado (tenor), Nahuel Di Pierro (bass), Ensemble Diderot/ Johannes Pramsohler (violin)
Works: Music by J.C. Bach, Biber, Bruhns, Eberlin and Pachelbel
Catalogue Number: AUDAX RECORDS ADX 13715
Had someone proposed cold the idea of a disc of German Baroque cantatas with solo violin, Johannes Pramsohler's name would have topped my wish list of possible violinist directors for the job. So it's unsurprising that these performances are superlative from start to finish; not least because Prahmsohler has assembled a top team of vocal soloists, headed up by bass Nahuel di Pierro, to join him and his Ensemble Diderot. Philippe Grisvard's flowing organ continuo then puts the finishing gold plate on it all.
Their programme is centred on the group of musicians representing the talent of the ducal court of Eisenach at the end of the 17th century, and includes the world premiere recording of the cantata 'Ich will in aller Not' by the violinist Daniel Eberlin, appointed kapellmeister in 1685. With this period in central Germany seeing violin technique blossom to develop the use of double-stops and playing in the upper registers (all of which gradually necessitated the shift from holding the violin on the chest to clamping it firmly under the chin), the further repertoire focus has been on works featuring the violinist and singer as equal partners; which the engineering balance nicely reflects.
As for Pramsohler, he shines: virtuosities silkily spilling out, double-stops clean and mellifluous, and with elegant shading and ornamentations. All of this is complemented by the gentle acoustic of the Refectory of the Abbaye Royale de Fauntevraud. Beautiful.
CHARLOTTE GARDNER