A Romantic approach to Italian Baroque rarities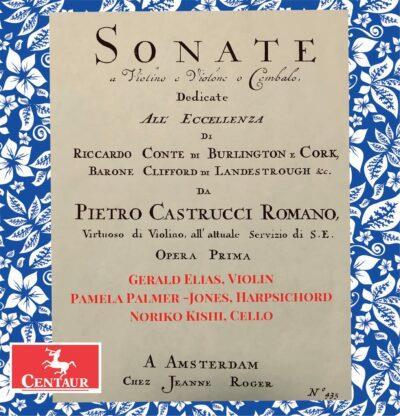 The Strad Issue: August 2022
Description: A Romantic approach to Italian Baroque rarities
Musicians: Gerald Elias (violin) Pamela Palmer-Jones (harpsichord) Noriko Kishi (cello)
Works: Castrucci: Sonate a Violino e Violone o Cembalo op.1
Catalogue number: CENTAUR RECORDS CRC3932/3933 (2 CDS)
Veteran violinist Gerald Elias has admitted (The Strad, May 2022) that this release probably represents both his debut and swan song as a solo recording artist. Whatever the future may hold, his accomplished premiere recordings give renewed life to these 12 unjustly neglected violin sonatas by a Roman pupil of Corelli who moved to London in 1715 where he rubbed shoulders with, among others, Handel and Geminiani.
Elias draws an agreeable, delicate tone from an instrument 'adapted for Baroque playing', tuned to A=415Hz and played with a Baroque bow. His essentially modern technique is circumspect, yet substantially accurate, and he nurtures the line with ample vibrato. He interprets Castrucci's generic ornament signs intelligently and adds his own imaginative embellishments with fluency and good taste. Having clarified various textual problems, he retained the distinctive scordatura timbres of the standout no.12 and the harmonic and tonal adventurousness, exemplified in the last three movements of no.7 and the Andante of no.9, (the last of which caused Charles Burney to describe Castrucci's works as 'too mad for his own age'). The dark undercurrents of nos.2, 3, 8 and 12 are well characterised, as are the good-humoured repartee of no.4's Andante and no.5's Allegro and the brooding qualities of the opening movement of no.1.
The recorded balance does Elias few favours, however, his continuo duo often becoming too prominent in the mix. Noriko Kishi enthusiastically supports the continuo bass-line throughout, anachronistically playing a cello with modern set-up, but the contribution of harpsichordist Pamela Palmer-Jones is modestly functional rather than extrovert.
ROBIN STOWELL