A superb partnership of star soloists sparks brilliance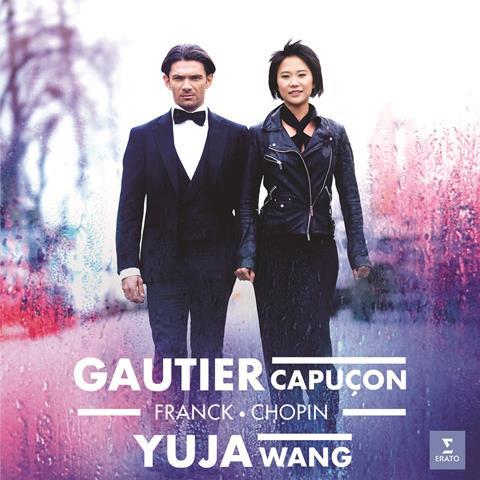 The Strad Issue: March 2020
Description: A superb partnership of star soloists sparks brilliance
Musicians: Gautier Capuçon (cello) Yuja Wang (piano)
Works: Franck: Cello Sonata in A major. Chopin: Introduction and Polonaise Brillante in C major op.3; Cello Sonata in G minor op.65. Piazzolla: Le grand tango
Catalogue Number: Erato 0190295392260
Richly romantic and fully textured piano parts require extremely careful balancing, particularly in Jules Desart's transcription of Franck's Violin Sonata, where the cello can so easily become dwarfed. Yet Yuja Wang establishes a superbly etched partnership with Gautier Capuçon, both artists effectively operating on an equal footing. Their renditions of the first and third movements are intoxicatingly delicate with quasi-impressionistic, dreamy timbres presenting a dramatic contrast to their turbulent and passionate delivery of the second Allegro and Finale. Ensemble is finely mapped and supported by a clear yet resonant recorded sound.
A heroically robust account of Chopin's virtuosic Introduction and Polonaise forms a dazzling and entertaining prelude to the later, more emotionally charged Sonata, penned after the composer's affair with George Sand. Capuçon creates an exquisite sense of longing and repose in the Largo and rides the storm of the outer movements with great intensity. As in the Franck, both players place the greatest emphasis on maintaining clarity of texture and retaining a unified sense of phrasing in the interplay of thematic material.
In lesser hands, the extended length of Piazzolla's Le grand tango can pall. Here, though, the mood changes are tautly choreographed, with punchy characterisation of the edgy street dance. By turns electric and introspective, this is a brilliant performance that caps an altogether outstanding release.
JOANNE TALBOT