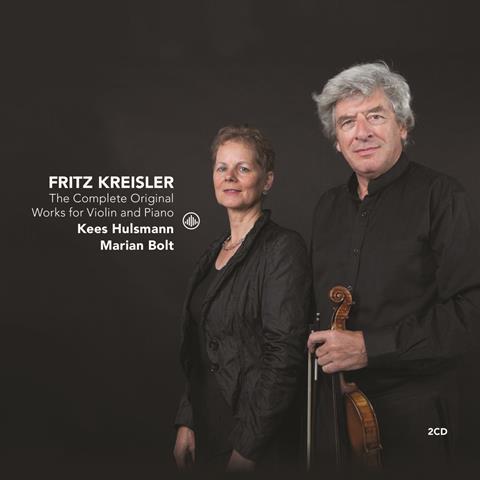 The Strad Issue: May 2017
Description: A treasure trove containing Kreisler's complete accompanied oeuvre
Musicians: Kees Hulsmann (violin) Marian Bolt (piano)
Composer: Fritz Kreisler
Catalogue Number: CHALLENGE CLASSICS CC 72749 (2CDs)
Although Itzhak Perlman recorded many of these pieces (alongside the arrangements) on a series of albums for EMI/Warner over a period of some 20 years, I cannot recall the entire accompanied oeuvre appearing on disc before as an integrated collection. Compared with Perlman, Henryk Szeryng and Fritz Kreisler himself, Kees Hulsmann is less inclined towards sustained tonal opulence and lashings of old-world charm, yet he plays with an aristocratic elegance, silvery purity, technical ease and near-infallibility of intonation that are unfailingly pleasing. Some may prefer a more seductively cosseting approach to such old favourites as Caprice viennois, Liebesfreud and Liebesleid, with lashings of portamento and double-stops, but played like this, with an affectionate grace and uncluttered phrasal and rhythmic naturalness, the effect is as though a layer of interpretative accretion has been removed. Kreisler aficionados will be delighted to hear that included in this collection of no fewer than 35 pieces is a previously unrecorded Song that opens in barcarolle style alongside such comparative rarities as the Malaguena, Cavatina and Episode. In the wrong hands a little Kreisler can go an awfully long way, but played liked this I was left wondering afresh at his seemingly endless fund of melodic indelibility. Marian Bolt provides unfailingly sensitive accompaniments, and the unusually well-balanced recording creates the uncanny impression of the musicians being in the room with you.
Julian Haylock