An endless song of praise to two master musicians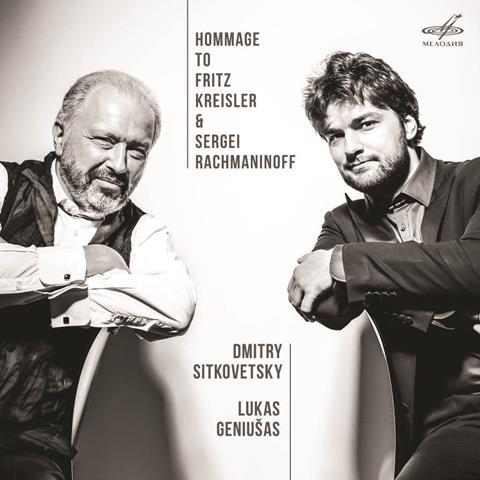 The Strad Issue: March 2020
Description: An endless song of praise to two master musicians
Musicians: Dmitry Sitkovetsky (violin) Lukas Geniušas (piano)
Works: Beethoven: Violin Sonata no.8 in G major op.30 no.3. Schubert: Violin Sonata in A major D574. Grieg: Violin Sonata no.3 in C minor op.45. Kreisler: Old Viennese Dances: Liebesleid; Schön Rosmarin; Marche miniature viennoise
Catalogue Number: MELODIYA MEL CD 10 02595
When Rachmaninoff arrived in New York in November 1918, offers of work came flooding in, and he was welcomed by a number of distinguished musicians, including Fritz Kreisler. This marked the start of a friendship that would culminate in a small but priceless series of recordings – Beethoven's op.30 no.3 Sonata, Schubert's D574 duo sonata and Grieg's C minor Sonata – which inspired the present disc. If the Kreisler–Rachmaninoff discs capture the inspired collaboration of two contrasted musical personalities, Dmitry Sitkovetsky and Lukas Geniušas sound as if they are more instinctively attuned to their shared musical proclivities.
Most notable of all is their shared tendency towards to a velvety cantabile, most strikingly in the Beethoven, which never seems to stop 'singing', even in the moto perpetuo-like finale. This also helps contextualise the near-hysteria of the Grieg Sonata's fierier outbursts, creating a beguiling sense of enhanced emotional continuity and Nordic freshness, where the mainstream tendency is to employ Sturm und Drang shock tactics.
Finest of all is a magical reading of the Schubert that exchanges the interpretative Beethovenian 'red rag' for an unending flow of deeply felt musical poetics. Enchanting readings of Kreisler's Liebesleid (in Rachmaninoff's piano realisation) and Schön Rosmarin provide the icing on the musical cake, enhanced by the sound's gently cushioned, concert-hall perspective.
JULIAN HAYLOCK