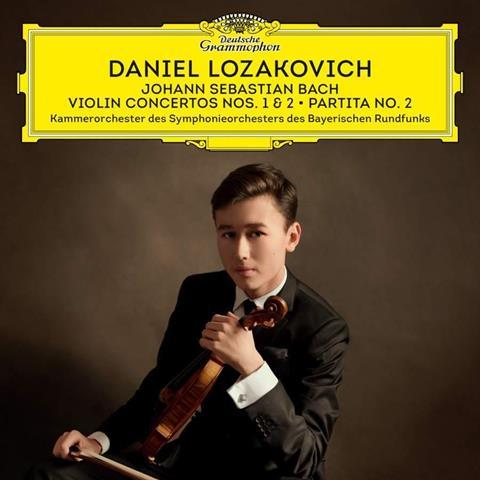 THE STRAD RECOMMENDS
The Strad Issue: October 2018
Description: Prodigious youth delivers outstanding, intuitive Bach
Musicians: Daniel Lozakovich (violin), Chamber Orchestra of the Bavarian Radio Symphony Orchestra/Radoslaw Szulc
Works: BACH Violin Concertos: no.1 in A minor BWV1041, no.2 in E major BWV1042; Partita no.2 in D minor BWV1004
Catalogue Number: DG 479 9372
Award-winning Swedish prodigy Daniel Lozakovich draws mellifluous sonorities from his 1713 'Baron Rothschild' Stradivari in this debut disc, which is an outstanding and distinctive addition to the already heavily pregnant Bach catalogue. His accounts of the two concertos are technically flawless, beautifully honed and expressively engaging, particularly in the slow movements where he introduces some thoughtfully differentiated timbres.
The outer movements showcase his technical athleticism, muscular bowing and, in both nimble and exhilarating finales, a winning sense of the dance. Ensemble is tautly controlled and balance is well managed in the resonant, close recording, in which his occasional sharp intakes of breath regrettably intrude.
There is much to commend, too, in Lozakovich's imaginative account of Bach's Second Partita: his shapely phrasing and emphasis of significant notes, especially in the Allemande; his buoyantly energetic Courante and Giga; his method of sustaining the multiple-stopping to realise the full weight of the harmony in the Sarabande and Chaconne; and his overall architectural nous and expressive liberties with tempo in the Chaconne.
The repeated sections of the dance movements might have benefited from some additional ornamentation, but that should not detract from this strong and refreshing reading by an intuitive young Bachian.
ROBIN STOWELL