Peter Quantrill visits London's Royal Festival Hall on 26 February 2022 for the performance of Prokofiev's Second Violin Concerto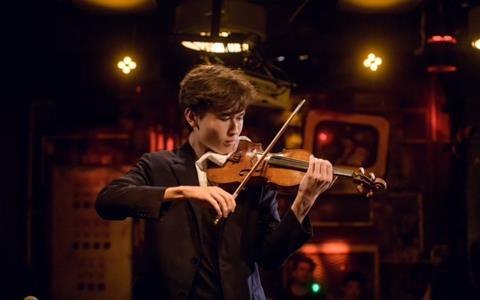 Some unease to the first-half account of Prokofiev's Second Violin Concerto was understandable given the short-notice withdrawal of the scheduled conductor Klaus Mäkelä. Nevertheless, Alpesh Chauhan soon established a vivid sense of the concerto's glinting, balletic sound world with some pungent and pointed wind solos.
By contrast, Daniel Lozakovich never quite settled to his task. A self-effacing stage presence is one thing, but he drew a large, generically Italianate sound from his 1727 'Baron Rothschild' Stradivari and played either to himself or the audience rather than engaging in quicksilver dialogue. There is something to be said for playing a straight bat in music so often fraught with major-minor ambiguity, and he drew in the audience with a withdrawn, Juliet-like pianissimo to launch the second movement, before tracing out the second theme with admirable modesty.
Time and again, however, he drew the concerto's laces too tightly, pushing unmercifully through the Spanish episodes of the finale, sailing over any potential irony in the score and leaving the orchestra to fill in colour and play catch-up. He dispatched the climactic solo with an accelerating momentum that caught the LPO off-guard – the final chords were frankly a mess – and leaving little more than a vaguely French-accented impression of the concerto's harmonic and stylistic tensions.
Chauhan's cellist background came to the fore in the Second Symphony of Rachmaninoff, always taut and assured in its phrasing. The slow movement's noble clarinet melody had room to breathe, and some odd discrepancies of vibrato within and between string sections did not compromise an opulent collective sonority. If Chauhan and the LPO were working on the fly, they hid it well.
PETER QUANTRILL
Photo: Stefan Hoederath