One of the most delightful 'socially distanced' albums you'll hear this year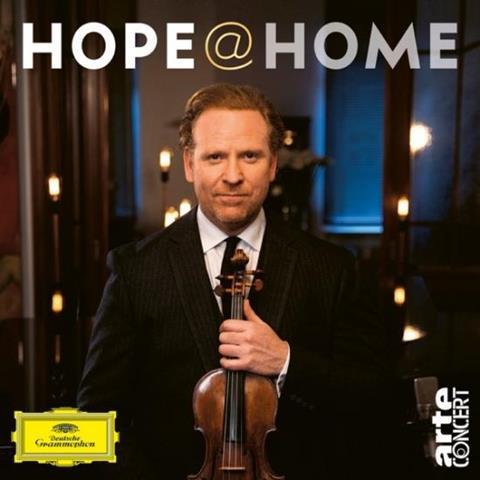 The Strad Issue: November 2020
Description: One of the most delightful 'socially distanced' albums you'll hear this year
Musicians: Daniel Hope (violin) Aliya Vodovozova (flute) Till Brönner (trumpet) Michael Metzler (percussion) Christoph Israel, Jacques Ammon, Tamara Stefanovich, Sebastian Knauer (piano) Matthias Goerne (baritone), Joy Denalane, Max Raabe (vocals) Max Herre, Iris Berben (speech)
Works: Works by Arlen, Brahms, Cano, Falla, Fauré, Gershwin, Hadjidakis, Herre, Heymann, Kipling, Kosma, Louiguy, Mancini, Otis, Rachmaninoff, Rota, Satie, Schubert, Ward, Weber and Weill
Catalogue number: DG 483 9482
Here on the Deutsche Grammophon label is what must be one of the most impressive of lockdown home recordings. Daniel Hope and his friends have been broadcasting a diverse range of repertoire on YouTube from his home in Berlin, of which this is a scintillating sample. His living room, by the sound of it, has an acoustic that would do credit to a Gothic cathedral, doubtless aided by recording equipment not found in the average Berlin household, which gives a close-up of his sumptuous playing and balance with his various colleagues.
The music ranges from classical to Hollywood, mostly arranged by the artists, sometimes as they went along. With Christoph Israel, the pianist we hear the most, he plays Schubert's An die Musik with appealing simplicity, gives a bleak account of Satie's first Gnossienne, and brings subtle phrasing and sheer beauty of sound to Fauré's Après un rêve and Rachmaninoff's Vocalise. But there is so much more: Weill's Youkali; Rota's yearning Godfather Waltz; Mancini's Moon River, in which Hope's rich, eloquent vibrato and instinct for rubato show so well.
Among his colleagues he is joined by jazz trumpeter Till Brönner in Kosma's Les Feuilles Mortes, soul singer Joy Denalane in Clyde Otis's This Bitter Earth and Iris Berben reciting Kipling's If while Hope and Israel play Falla's Asturiana. There is a lot to enjoy here, heartfelt, quirky, sometimes cheesy – all delightful salon entertainment.
TIM HOMFRAY