David Kettle hears the performance from St Luke's,. Glasgow, on 29 June 2023, featuring works by Bartók, Pippa Murphy and Pàdruig Morrison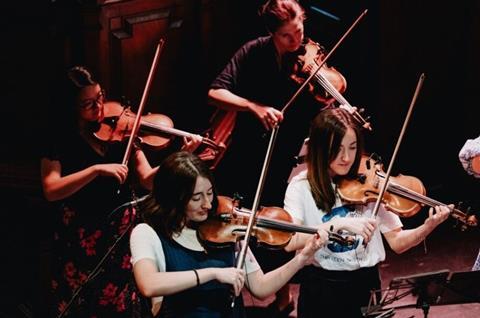 It's not every week you get to experience the birth of a new string group, let alone a 13-player mini-orchestra. So the launch of Thirteen North, at trendy Glasgow bar/eatery/venue St Luke's, felt like a bit of an occasion for music in Scotland, if not the wider UK.
In the end, though, the performance raised more questions than it answered. For a start: why wasn't there more music? After a beautifully delivered though lengthy support set of South American tunes from violin-and-guitar duo Escocia, Thirteen North's own set boiled down to Bartók's Divertimento plus three short commissioned pieces (and quite a lot of talk). It felt somewhat frustrating, since the group's Bartók was gutsy and thoroughly committed – a near-ideal blend of elegant classical precision and raw folky authenticity, reflecting the players' roots in both classical and traditional musics. You had to wonder, though, whether the piece really needed amplification in such an intimate space.
The ensemble's three new pieces set out to explore various aspects of connection – across the ages in Pippa Murphy's elegant, sonorous and refreshingly simple Burns-inspired Ca' the Yowes tae Humbie, and across great distances in North Uist-based Pàdruig Morrison's powerful These Highland Glens Once Danced, remembering the culture lost to the Clearances. The brief films from Glasgow-based Bircan Birol that prefaced each new work proved to be little more video programme notes. There were a few disturbances in the concert, too, with chattering cameramen capturing the event for posterity and a photographer prowling among the audience.
Ultimately, it felt like a perplexingly meagre mouthful of what Thirteen North could undoubtedly achieve in musical terms, rather than a satisfying meal, and one with quite a lot of distractions too. Let's hope it dares to go unplugged, without mics, cameras, films and support act, and let its performances speak for themselves.
David Kettle