Dennis Rooney hears a recital of Hahn, Fauré, Adès, Schumann and Brahms at Shriver Hall in Johns Hopkins University, Baltimore, on 23 October 2022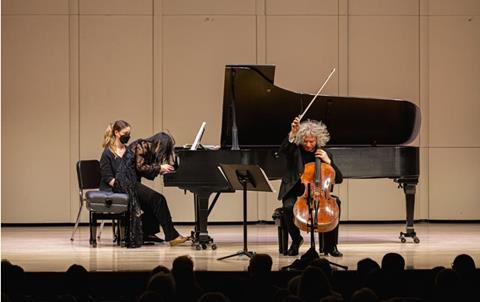 Those in attendance at Shriver Hall heard a recital well worth the price of admission. The occasion was the Piatigorsky Memorial Concert, an annual event which, since 1978, has presented both renowned cellists and promising newcomers. This year's presented Isserlis, whose mastery at 63 (64 in December) seems to grow with the passing years, in an excellent partnership with the Canadian pianist and Curtis alumna Connie Shih. Their teamwork was delightful to hear. Those, like myself, who were live-streaming the event, experienced it with the diminished immediacy imparted by the audio.
The challenging programme began with a rarity by Reynaldo Hahn (1874–1947), whose reputation comes mainly from his masterly output of mélodies. His Variations chantantes sur un air ancien takes its theme from an opera by the 17th-century Venetian composer Francesco Cavalli. Hahn's variations are lyrical rather than bravura in character, and Isserlis and Shih were utterly mesmerising in their performance.
The same mastery and sheer joy came through just as piquantly in the works that followed, by Fauré, Adès, Schumann and Brahms. If Adès's Lieux retrouvés was the least familiar to US audiences, Isserlis brought it compellingly to life, despite some discomfort in reaching some of the high notes. The second sonatas of Fauré and Brahms and Schumann's Adagio and Allegro op.70 were all were performed with distinction, as was the Chopin Polish song that formed the encore.
DENNIS ROONEY