Leah Hollingsworth listens to the performance at New York's 92Y, Lincoln Hall, on 9 December 2021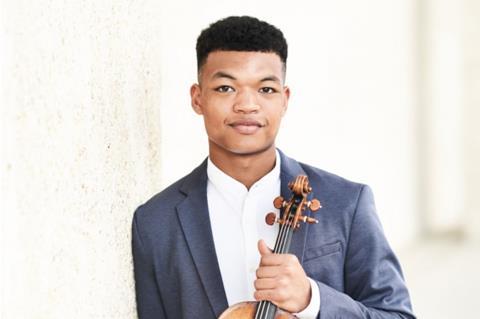 After hearing Randall Goosby in an online performance in 2020, my first experience seeing him live did not disappoint. His beautiful lines in the opening Largo of Mozart's B flat major Violin Sonata K454 immediately grabbed the ear, and the Allegro was effortlessly sparkling and lithe. The following movements were well shaped and extremely enjoyable, with lovely piano playing from Zhu Wang and great ensemble, especially in the second movement, and while Mozart is often difficult to master, Goosby played with elegance and beauty. His string-crossings were always clean, and spiccato passages tossed off with deceptive ease.
A set of three Florence Price pieces followed. Fantasy no.1 opened with a deep, soulful sound, which gave way to a whimsical second theme, played with aplomb and character. Here it felt like Goosby played with more abandon and joy than in the Mozart. Fantasy no.2 was even more virtuosic and Goosby played with confidence and beauty in spite the work's quirkiness. Originally written for the organ, Price's Adoration was an introspective piece, performed with great tenderness from both musicians.
The programme ended with Franck's Violin Sonata in A major. The opening Recitativo was captivating and Goosby played with an intensity that immediately attracted the ear. The simplicity of his phrasing paired with the ease of his spinning sound was very elegant. The final Allegretto ended the evening with flair, fervour and exuberance.
LEAH HOLLINGSWORTH