Bruce Hodges watches the performance of Szymanowski's Violin Concerto no.2 at New York's Carnegie Hall on 1 June 2022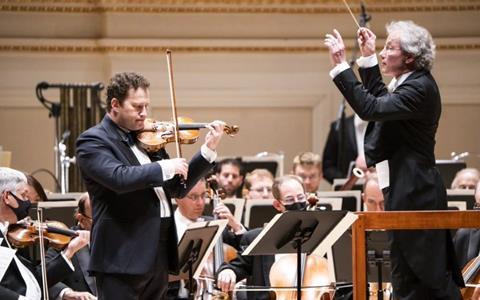 For some reason, Szymanowski's Violin Concerto no.2 seems not as widely known as its predecessor, making this rare bit of fireworks all the more welcome. Of course, it helps to have colleagues such as the Cleveland Orchestra and Franz Welser-Möst – who usually make annual treks to Carnegie Hall – in their first appearance here in three years.
It also helps to have violinist Nikolaj Szeps-Znaider, whose assurance in this relative rarity can only be applauded. From the initial Moderato, packed with fiery double-stopping, Szeps-Znaider roamed the composer's expansive halls as if he had built them himself – impressive for a concerto not in the fingers of most violinists. Between the second and third movements, a cadenza by Paweł Kochański (on a par with that in the First Violin Concerto of Shostakovich) landed like a blazing spaceship, before the orchestra swooped in to resume the drama.
In the final Andantino – Molto tranquillo, the violinist's dialogue with the ensemble was compelling, answering the lower strings with articulated melodies and wide-ranging splashes of colour. After the whirling conclusion, all personnel on stage – and the enthusiastic audience – applauded the violinist. Maybe his advocacy will increase the work's visibility.
The evening opened with George Walker's Sinfonia no.4 (2012), a single, powerful movement sub-titled 'Strands', with the Cleveland strings on sleek form. That same string power showed up later to fuel an extraordinary Schubert Ninth Symphony, with every bar playing to the strengths of both conductor and orchestra.
BRUCE HODGES