Bruce Hodges reports on the concert at New York's Weill Recital Hall on 25 October 2019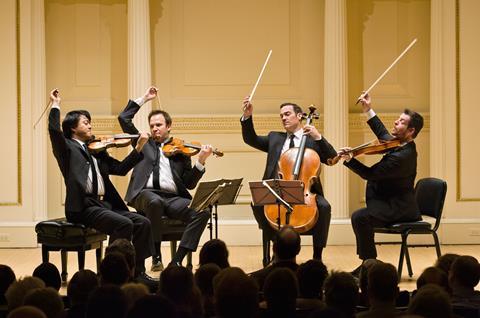 As part of its admirable initiative to explore concert traditions from the past, the Miró Quartet evoked ghosts of the venerable Kneisel Quartet (active 1885–1917) in this appearance at Weill Hall. As violinist William Fedkenheuer noted in his introduction, the salon convention at that time prized not only complete works, but individual movements.
To open, the Mozart 'Hunt' Quartet – in its entirety – had playful elegance, and the reserved, slightly shy Adagio made the exuberant finale stand out in high relief. The foursome continued with Glière's Andante con variazione from his String Quartet no.1, mining its quintessentially Russian mix of mournfulness and animation. Violinist Daniel Ching introduced the Scherzo from Franck's String Quartet in D major, reassuring the eager audience that only five minutes of the 45-minute work were on tap. Those five made a ticklish impact.
As a palate cleanser, cellist Joshua Gindele offered a relative rarity, Fantasie sur deux Airs Russes by Adrien-François Servais. In opening remarks, Gindele mentioned that among the composer's other achievements was the invention of the cello endpin. With the impressive Stephanie Ho on piano, Gindele struggled slightly with intonation, but the devilishly difficult exercise made an impact anyway.
To close came Schubert's 'Death and the Maiden' – as one listener quipped, 'the fastest 40 minutes I've ever heard.' From the opening storminess to the incessant dotted rhythms later, the ensemble was thrilling, if again, some tuning slightly compromised the result. Violist John Largess announced the encore, the ensemble's favourite Beethoven slow movement, the op.130 Cavatina, unveiled with appropriate reverence and grace.
Bruce Hodges