Bruce Hodges hears the performance of Mozart, Franck and Ravel at New York's Carnegie Hall on 21 January 2022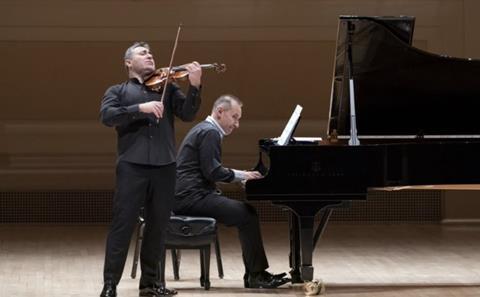 'It's so nice to be back in New York!', beamed Maxim Vengerov, with Simon Trpčeski at the piano turning to smile at the lengthy cheers and applause. Given the latest pandemic threat – and subsequent cancellations of many events – the Carnegie Hall audience was surprisingly large.
The pair began with Mozart's Violin Sonata in E minor K304 – a genial, if subdued opening. Vengerov's rivers of legato were even more delectable when combined with the sonorities from his 1727 'Kreutzer' Stradivari. Prokofiev's First Violin Sonata upped the temperature considerably, with Vengerov in high-concentration mode during the eerie filigree passages. Rough-hewn lunges during the second movement were tempered with sweetness, while Trpčeski felt like an amiable demon at the piano. The mellow, introspective Andante eventually yielded to the reprise of the violin filigree in the finale, returning like a love letter.
The by-turns sweet and stormy Franck Violin Sonata in A major showed off Vengerov's unceasing tonal purity and beauty of phrasing. After seemingly endless soaring, the final movement arrived with the simplicity of a child's song. The audience reacted to the moment with a standing ovation – before the concert had ended.
To close came Ravel's Tzigane, with bravura at every turn – all peppery pizzicatos and fire. Encores seemed inevitable, and we were treated to three: Kreisler's Liebesleid and Liebesfreud seemed like reunions with old friends, and Fauré's Après un rêve brought the evening to a glistening close.
BRUCE HODGES
Photo: Jennifer Taylor