Charlotte Gardner hears the pereformance at London's Royal Festival Hall on 27 February 2020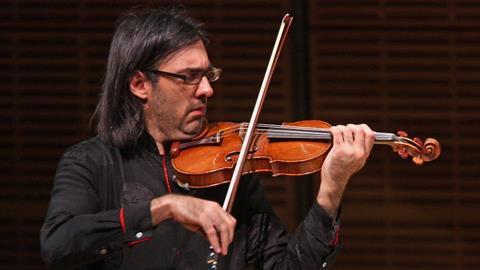 As Leonidas Kavakos began the virtuosic finale of the Korngold Violin Concerto, I came up with a new concerto game. Close your eyes, listen carefully, then picture in your head how the soloist might appear on stage. In this case, was the sight of Kavakos as passionate and dramatic as what I could hear? But I already knew the answer, because Kavakos until this point had been a study in how to produce arresting, wonderfully shaped sound without making either a physical or facial fuss. In fact, as he stood erect, face barely flickering as he focused on his strings, I was slightly reminded of the work's dedicatee, Heifetz – although, much as Kavakos's interpretation was obviously ardour-filled, it was cleaner and with much less vibrato. Instead, his romance came in the fine details – the small but distinct little portamento scoop he brought to his second, upward-climbing phrase; his luxurious tempo, and the way his slow-movement love song was one organically unfurling long line where the intensity of tone didn't dip for a second. So, even as the finale progressed, his heels lifted off the ground and his head began to nod, it was the crisp neatness of his virtuosity and the fire of his tone that delivered the excitement.
The orchestra was also on fire – zinging, virtuosic and with the tightest ensemble. The sharp bang of the concluding chord in the first movement elicited unashamed applause. Wilson coaxed out delicious colours and made the most of every duet.
The programme-opening Barber First Essay for Orchestra had also been satisfying. Even more fabulous was Elgar's Symphony no.3: the swagger of the brass syncopation at Wilson's pacey opening, then a revelatory performance of strength, tension, warmth and vigour. In short, it was a special night.
CHARLOTTE GARDNER