Edward Bhesania finds much to admire in a live-streamed performance from London's Wigmore Hall on 30 November 2020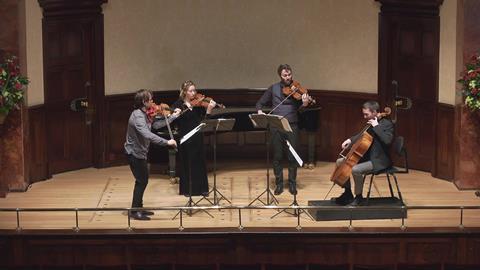 Another of Wigmore Hall's streamed winter concerts saw the Heath Quartet perform a neat trio of 20th-century British works, presented offstage by broadcaster and pianist Iain Burnside. With the players standing, save for cellist Christopher Murray, they opened with James MacMillan's 1994 Memento, a short lament with clear Gaelic influences. They beautifully shaped the piece's ethereal, intertwining lines – an effect rendered more poignant by having no immediate audience on which to fall.
Next came Thomas Adès's Arcadiana (also 1994), whose seven movements explore evocations of transitory idylls. The kaleidoscopic range of style and expression were boldly explored, with 'Venezia notturna' bringing a viola ostinato of lapping waves as well as a touch of Ravelian suaveness. The players squared up to the demanding intricacy of 'Das klinget so herrlich, das klinget so schön' (whose title references Papageno's magic bells in The Magic Flute) and its cheeky parting quote from the Queen of the Night's second aria. Elsewhere there was searing violence in the fourth movement (subtitled 'Tango mortale') and glassy delicacy in the Watteau-inspired minuet-and-trio fifth movement, 'L'embarquement'.
Britten's String Quartet no.2 in C major closed the concert: a performance with lyrical eloquence and dynamic drama which returned the piece to the stage on which it was premiered 75 years earlier.
EDWARD BHESANIA