Leah Hollingsworth watches a varied performance by the violinist-composer at the Kaufman Music Center in New York's Merkin Concert Hall on 1 June 2023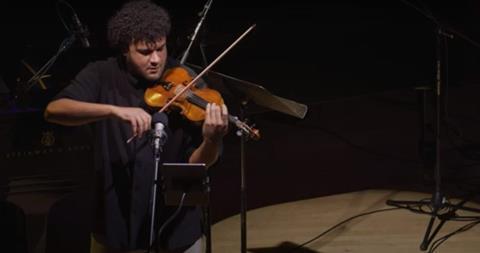 Violinist and composer Curtis Stewart presented a profound and deeply moving evening as a part of the Ecstatic Music Series at the Kaufman Music Center this June, sharing the stage with a number of musicians and dedicating the performance to the memory and legacy of his mother.
Stewart began the programme with excerpts from his new album Of Love / of time and his solo violin playing was brilliant and passionate; he often accompanied himself by utilising electronics and a loop pedal, as well as singing and speaking in a performance that reached an impassioned climax before dissolving away into tenderness. Pianist Aaron Diehl joined him for several numbers to close the first half of the concert.
A large string orchestra then joined Stewart for his own improvisation on Take the 'A' Train, which also included electronics, rap and projections. The world premiere of Embrace, 'a violin concerto for strings and community conversation' followed, and Stewart played this work inspired by his mother with poignancy and precision.
Three selections from 24 Negro Melodies by Coleridge-Taylor brought luscious string sound and virtuosic violin playing. KNIGHT Music, a piece by Stewart based on Joseph Bologne's Ninth Violin Concerto, was a brilliant mix of Bologne and Stewart: the combination of wit, flair and wild abandon was impressive. The evening ended with a poignant and profound work that was part spoken ('a prayer to my mom', Stewart said), part solo violin, part electronics. I'm not sure if I found the concert self-indulgent or utterly brilliant, but the enthusiastic audience was in no doubt.
LEAH HOLLINGSWORTH