Peter Quantrill visits London's Conway Hall for the performance on 17 November 2019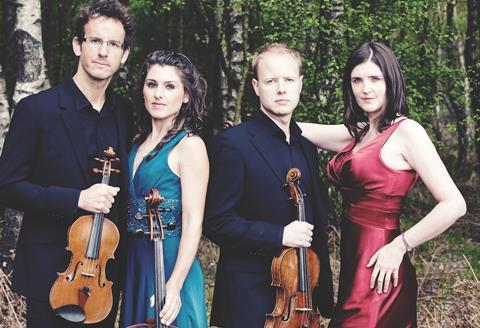 What makes music 'national' in character, beyond the use of local idioms and melodies? A trio of complementary answers was supplied by the Anglo-Irish members of the Carducci Quartet as part of Conway Hall's reliably excellent Sunday-evening series. The musicians seemed right at home in the Celtic Mendelssohn vibe of Moeran's posthumously discovered early String Quartet in E flat major, artlessly inflecting the second movement's big 'Irish' romantic tune and then playing into the jig section without recourse to tourist-brochure cliché.
With a grand total of 22 years together on the clock, the Carducci Quartet brings to the stage four distinct personalities rather than a seamless unit akin to the Hagen Quartet. Violist Eoin Schmidt-Martin and cellist Emma Denton took the spotlight from the opening of Borodin's Second Quartet, lingering just enough over the slow 'Kismet' section of the second movement and again emphasising the Mendelssohnian qualities of writing that hardly requires lavish resources of tone to sing with Russian soul in every bar.
The conclusion to be drawn from the Carducci's fresh and lively account of Dvořák's 'American' Quartet was that Romantic nationalism in music speaks for itself. The notes of melancholy were touched on gently by Matthew Denton's leadership of the Lento, and Czech/US values of teamwork and optimism held sway in the clean Midwestern air of the scherzo. The finale's inner voicing brought more sunshine than clouds to lift the spirits on a chill November evening.