Plenty of pleasure to be found in violin sonatas by a French master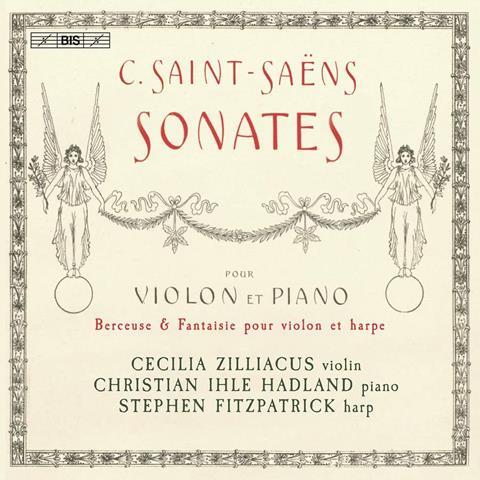 The Strad Issue: May 2023
Description: Plenty of pleasure to be found in violin sonatas by a French master
Musicians: Cecilia Zilliacus (violin) Christian Ihle Hadland (piano) Stephen Fitzpatrick (harp)
Works: Saint-Saëns: Violin Sonatas: no.1 in D minor op.75, no.2 in E flat major op.102; Fantaisie in A major for violin and harp op.124; Berceuse op.38 for violin and harp (arr. Fitzpatrick)
Catalogue number: BIS BIS2489
The winding opening of Saint-Saëns's First Violin Sonata is shaped by Cecilia Zilliacus and Christian Ihle Hadland with dynamic flexibility and their reading develops into strong, bright-toned playing, forthright and determined. Only at the end of the movement do they soften into quiet beauty for the transition to the second-movement Adagio; this is delicately done, its demisemiquaver writing given a caressing quality, Zilliacus imbuing the arabesques with graceful freedom.
The featherweight Allegretto moderato has twinkling charm, its staccato semiquavers clean and precise. And while she sprints neatly through the moto perpetuo finale, she can't quite persuade us that this is Saint-Saëns at his finest (the unkind might call it glorified note-spinning).
The duo gives a satisfyingly robust and urgent account of the first movement of the Second Sonata, alive to both the twisting melodic cells and the dramatic discourse. The Scherzo is light and effervescent, while the Andante has an air of mystery, with Zilliacus gently floating above the rippling piano as if she has all the time in the world. The disparate elements that make up the finale are given plenty of character here.
Harpist Stephen Fitzpatrick joins Zilliacus for Saint-Saëns's A major Fantaisie, mixing charm and drama, and his own arrangement of the Berceuse op.38, played sotto voce. The recording is warm and close.
TIM HOMFRAY