Playing of rhetorical beauty where more persuasion and less force go a long way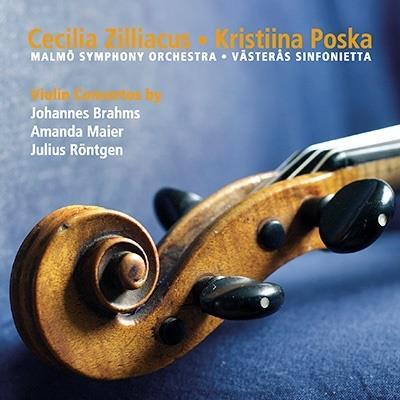 The Strad Issue: March 2022
Description: Playing of rhetorical beauty where more persuasion and less force go a long way
Musicians: Cecilia Zilliacus (violin) Malmö Symphony Orchestra, Västerås Sinfonietta/Kristiina Poska
Works: Brahms: Violin Concerto in D major op.77. Maier: Violin Concerto in D minor. Röntgen: Violin Concerto in F sharp minor
Catalogue number: DB PRODUCTIONS DBCD202
Cecilia Zilliacus is more given to thoughtful playing than to forceful rhetoric. In Brahms's Concerto she is not muscular, as many are, but often gentle and propulsive. She generates splendour as the music proceeds, building to thrilling climaxes. Her cadenza, which she commissioned from Mats Larsson Gothe, is variously light and questioning, powerful but oddly unsettling. It leads into harmonics and a fragile world that is more reflective than exhibitionist.
Zilliacus plays the central Adagio with fluid rhythmic freedom; it is intimate and has a sense of something shared. She meets the technical challenges of the Allegro giocoso finale with a light touch. Nowhere in this performance is there any virtuosic grandstanding. This is joyful, not driven.
Brahms is bracketed by concertos from Amanda Maier and Julius Röntgen, friends of Brahms (and who were married to each other). Only the first movement of Maier's concerto survives, full of Mendelssohnian figuration. Röntgen's work has rhetoric, beauty and harmonic invention. The recording is clean and clear.
TIM HOMFRAY