In our latest Session Report we join the Swedish violinist in the studio as she records Brahms. Interview by Andrew Mellor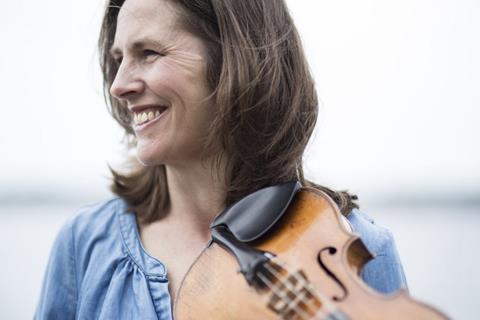 Not for Cecilia Zilliacus the glitzy, peripatetic career of some of her better-known counterparts. She lives in Stockholm, teaches at the Royal Swedish Academy of Music, plays in a trio and directs two chamber music festivals in Finland.
But she is a player to be reckoned with and an increasingly fascinating recording artist too. Her recording of the Nielsen Violin Concerto (made in 2014) garnered a Strad Recommends (March 2016), and there have been a handful of impressive releases since.
Zilliacus's Brahms Violin Concerto, played on her c.1740 Nicolò Gagliano instrument with the Malmö Symphony Orchestra and the Estonian conductor she picked out for the recording, will be unorthodox in almost every sense. Her Nordic-style violin tone is a long way from the central European tradition of Oistrakh, Heifetz and even Maxim Vengerov and Vadim Gluzman.
'It's very tender, sometimes even fragile,' says conductor Kristiina Poska. 'I have lived in Germany for 15 years, and when I return to the north I notice there's something special in the air here – a certain clarity. That's what I hear in Cecilia's tone. She is also extremely musical and living proof that it's always possible to pursue unusual ideas.'
We talk about the challenges of Brahms's opening movement – how to deal with the stasis some violinists and conductors fail to overcome. Texture and rhythm are vital, say both Zilliacus and Poska. Neither has much time for the old argument that the concerto isn't 'violinistic'. 'It is the best there is,' says Zilliacus. She has had the work in her repertoire since she was a student in the 1990s and has entered and won competitions playing it.
'I now feel as though I am playing as I want to play,' she says. 'I don't feel any pressure any more, I can be myself with this piece. I don't need to play like Oistrakh, and anyway, I can't. So, I have to play like me.'
This in an extract of a longer article in the November 2018 issue of The Strad, in which Cecilia Zilliacus also discusses recording a concerto Julius Röntgen. To read in full, download the magazine now on desktop computer or via the The Strad App, or buy the print edition