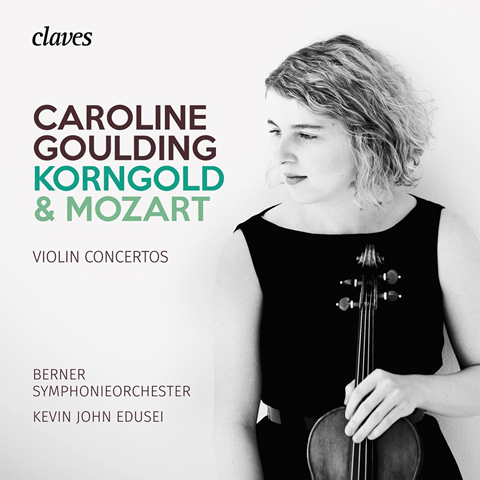 THE STRAD RECOMMENDS
The Strad Issue: July 2018
Description: Prizewinning violinist's debut concerto disc doesn't disappoint
Musicians: Caroline Goulding (violin) Berner Symphonieorchester/Kevin John Edusei
Works: KORNGOLD Violin Concerto in D major, op.35. MOZART Violin Concerto no.5 in A major K219 'Turkish'
Catalogue Number: CLAVES 50-1808
This first concerto disc from young American violinist Caroline Goulding was gifted to her as 2017 winner of the Sommets Musicaux de Gstaad festival's Prix Thierry Scherz. The finished article – a conceptually delicious matching of two composer-prodigies named 'Wolfgang' – exceeds expectations.
First the Korngold, with its opening luxuriously romantic and dreamy, its orchestral sound a luscious and softy sparkling one, over which Goulding spins out long, supple, amorous legato lines. Don't read that and think 'schmaltz' though; Goulding's rich tone may be tender and sweet, but it's also clean as a whistle, and delivered with will-o'-the-wisp nimbleness.
Then there's her cadenza: full-blooded romantic strength at one end, spiky and en pointe virtuosity the other, with the falling interval segueing those two halves delivered as an attention-grabbing portamento. On next to a soaring love song of a central Romance, followed by a cathartically effervescent finale, adding up to a beautifully gauged journey from start to finish.
The Mozart brings both a spot-on stylistic gear shift, and a buoyantly glowing reading whose finale is a cracker for the way its rondeau theme wonderfully resists complete re-gentrification after its full-on earthy peasant stomp.
Factor in that the recording is an acoustic beauty – Bern's Diaconis-Kirche lends a lovely bloom and gentle spaciousness – and I love this one a little more every time I listen to it.
CHARLOTTE GARDNER