Effortless eloquence and technical assurance make this a winner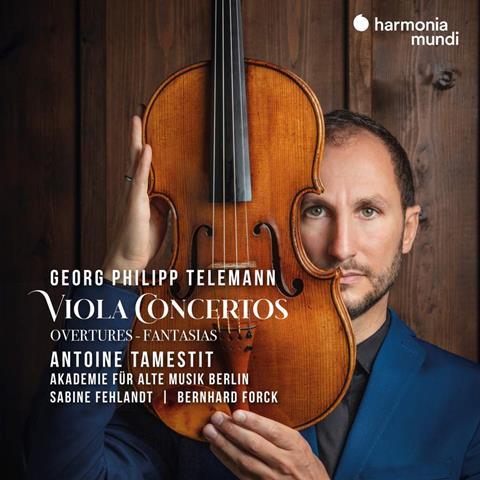 THE STRAD RECOMMENDS
The Strad Issue: March 2022
Description: Effortless eloquence and technical assurance make this a winner
Musicians: Antoine Tamestit (viola) Sabine Fehlandt (viola) Akademie für Alte Musik Berlin/Bernhard Forck (violin)
Works: Telemann: Viola Concerto in G major; Concerto in G major for two violas; Ouverture Burlesque; Ouverture-Suite 'La Changeante'; Canonic Sonata in D minor for 2 violas; Fantasias in E flat (B flat) major & C (G) major
Catalogue number: HARMONIA MUNDI HMM902342
Antoine Tamestit's spirited, dextrous account of Telemann's Viola Concerto showcases his intuitive musicality and the tonal merits of his 1672 Stradivari. He projects his sound effortlessly above the Akademie's incisive period-instrument textures in the two relentlessly driven fast movements, and sustains the line eloquently in its opening Largo and harmonically adventurous Andante, adding extempore ornamentation that is mostly tasteful but occasionally obtrudes.
The Akademie's lead violist, Sabine Fehlandt, joins him in neat, well-turned renditions of Telemann's D minor Canonic Sonata (including a somewhat rustic approach to the final Presto) and Concerto for two violas, the contemplative Largo and exhilarating concluding Vivement of which are especially pleasing. Tamestit's other contributions comprise expressive, colourful readings of the first two violin Fantasias, in which his technical assurance, precise articulation, subtle phrasing and flexible declamatory style form a winning combination. The recording is close and clear, but seems slightly over-resonant.
The Akademie's string players give an intelligent, committed account of Telemann's Ouverture Burlesque, its theatrical overture and deft portrayals of the Commedia dell'arte's characters sparking some imaginative outcomes, including the use of percussion instruments in the comic final 'Mezzetin en Turc'. They also dispatch the Ouverture-Suite 'La Changeante' with due reverence to Telemann's 'mixed taste' objectives in composition.
ROBIN STOWELL