Carlos Maria Solare visits Berlin's Pierre Boulez Saal for a concert of Mozart, Sainte-Colombe, Kurtág and Martinů on 1 March 2023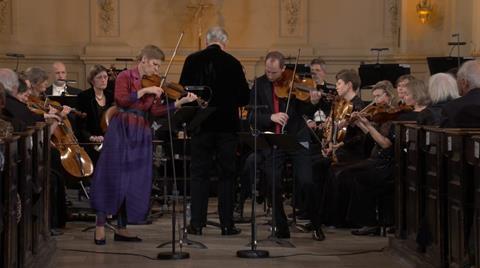 Mozart's duos for violin and viola are repertoire cornerstones, and thus – one in each half – they deservedly became the centrepieces of this rewarding recital. Isabelle Faust and Antoine Tamestit's tried-and-true musical partnership is further enhanced by their Stradivari instruments, the 'Sleeping Beauty' violin from c.1704 and the 1672 'Mahler' viola; the former's delicate, almost fragile sound was most beautifully set off against the latter's substantial tone. The pair's Mozart was delightfully shaped, the unison start to K424 played in a sotto voce that made you feel as if you were eavesdropping on an intimate conversation. Phrasing was perfectly natural, and embellishments – impish grace notes and little cadenzas – felt completely spontaneous.
Several pieces by Sainte-Colombe – he of Tous les matins du monde fame – were performed in well-fitting arrangements. Since the music was originally written 'for two equal viols', in this version the viola spends much time in high positions, answering the violin's phrases at the same pitch. Using Baroque bows, Faust and Tamestit brought forth some refreshingly clear sonorities, their vibrato specifically applied as one embellishment among many.
At the opposite end of the chronological spectrum was music from György Kurtág's ongoing series, Signs, Games and Messages. As yet unpublished in duo form, some pieces are known in other guises, such as the viola solo '… eine Blume für Tabea …', here enhanced by violin interjections, both instruments yielding crystal-clear harmonics, or 'Ligatura y', its choral-like trio textures now skilfully accommodated on two instruments. The latter piece segued into Martinů's Madrigals, the composer's trademark syncopations given a nicely lilting swing. A contemporary transcription from Mozart's Magic Flute was the delightful encore.
CARLOS MARÍA SOLARE