A gorgeous winter warmer of a family album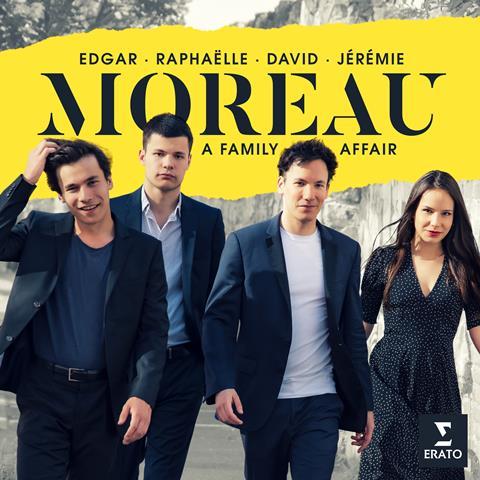 The Strad Issue: January 2021
Description: A gorgeous winter warmer of a family album
Musicians: Raphaëlle Moreau, David Moreau (violins) Edgar Moreau (cello) Jérémie Moreau (piano)
Works: Dvořák: Bagatelles op.47; 'Song to the Moon' from Rusalka. Korngold: Suite op.23; 'Mariettas Lied' from Die tote Stadt
Catalogue number: ERATO 9029524131
Music making begins at home: we've all had cause to remember that in recent months. This Moreau family album is a delight, not least for the intelligent programming: no forgettable chocolate box of encores but two substantial Romantic rarities. More than half a century separates them, and in the op.23 Suite, Korngold isn't reliving his childhood glory years as a Brahmsian prodigy but trying out darker and more speculative tones of voice. Despite a slightly ill-conditioned piano and an oddly balanced recording that favours the cellist Edgar, the Moreaus' account outstrips the competition, such as it is, for the sharp contrasts and parodistic humour of the central Groteske and stopped-clock poetry at the beating heart of the following Lied, as well as the taut line drawn throughout the Suite's outer panels.
Dvořák originally conceived the charming Bagatelles – of which only no.3 receives the attention it deserves – for string trio and harmonium, with the two violins sharing the limelight. Pianist Jérémie is the soul of discretion but Edgar's accompanying lines tend to dominate his siblings, perhaps through no fault of his own: all four musicians have the measure of Dvořák's folk-tinged nostalgia, phrasing and sighing as if sharing happy memories around the fire.
Edgar's star billing is satisfied by two aria transcriptions: played at its original soprano pitch, the Song to the Moon shows off an enviably even upper register, while Mariettas Lied is sensitively taken down the octave. A winter warmer of an album, made for and with pleasure.
PETER QUANTRILL