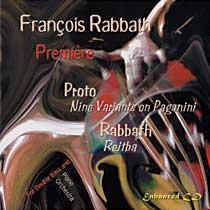 The Strad Issue: January 2014
Description: Double takes from two leading double bassists
Musicians: François Rabbath (double bass) Michael Cherlock, Frank Proto (piano/conductor) ESF Chamber Orchestra, Charleston Symphony Orchestra/David Stahl
Composer: Proto, Rabbath
Two of the most eminent bassists around come together for what proves to be a thoroughly enjoyable, thrillingly played disc – even if the content choices are slightly disconcerting. Providing both bass-and-piano and bass-and-orchestra versions of both of the disc's pieces is admittedly fascinating, but a wider selection of repertoire would have made for a far stronger recital.
In any case, bassists François Rabbath and Frank Proto make a superb team. Rabbath is in the spotlight as soloist in all pieces, and also composer of the achingly beautiful, folk-inspired Reitba, which he delivers with a sense of freedom and spontaneity in its rapturous melodic line.
Proto is pianist for the bass-and-piano version of Reitba, and also composer of the opening Nine Variants on Paganini (and conductor of its orchestral incarnation), a cool, jazzy reimagining of the famous 24th Caprice tune. Here, Rabbath is sometimes strangely reticent in the bass-and-piano performance, but he's commanding with orchestra, and astonishingly effective in a slow, jazz ballad-like central section, almost singing through his instrument in a freely flowing melodic line that plays with rhythm and intonation provocatively.
The pianists and orchestras all give strong support, but nobody is helped by the boomy, resonant church acoustic of the recording venue for Proto's Nine Variants, which muddies a lot of detail. Biographies, articles and sound clips are available in a CD-Rom section on the disc – but, strangely, no straightforward programme notes.
David Kettle