Cathy Elliott reads Hans Sturm's biography of possibly the most significant double bassist of the 20th century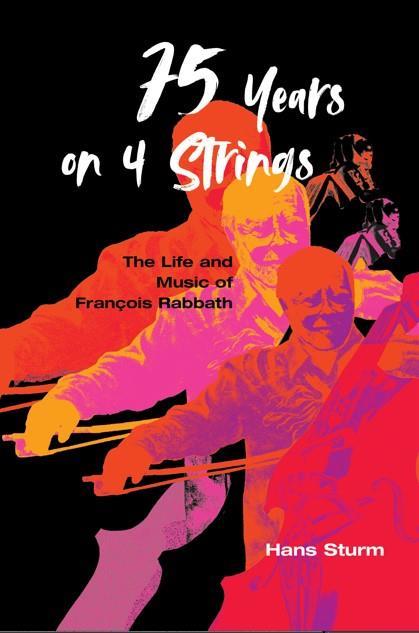 75 Years on 4 Strings: The Life and Music of François Rabbath
Hans Sturm
304PP ISBN 9798985305708
Avant Bass $50
François Rabbath, virtuoso double bass player, musician, composer and teacher, needs no introduction to the bass playing world but there are many others who will enjoy reading this celebration of his '75 years on 4 strings'. His uniqueness as both man and musician shine out from the pages describing his extraordinary life from autodidact to elder statesman among both players and teachers.
Hans Sturm draws on an unpublished autobiography for the earlier parts of the book, and later there are insights from Rabbath's wife and son. He also brings together conversations with numerous champions and friends in the US: Frank Proto, Paul Ellison, Barry Green and an interview with George Vance, plus stories and personal experiences shared by players and teachers from around the world. Using all of this, Sturm has given us an unparalleled insight into Rabbath's life.
It is an object lesson in how grit, determination, a love of new things to stimulate the mind and an insatiable desire for perfection will win out. The excitement of a young boy getting his first bass and the way he deciphered Nanny's method for double bass in order to teach himself 'properly' is infectious. The piecemeal way watching movies, having siblings who formed a band and wanting to be part of his family group came together might seem like an inevitable progression to stardom, but only when governed by a complete love affair with the double bass and an insatiable curiosity and desire to excel.
The book shows the slow burn of how Rabbath's life developed as a performer in Paris and then his introduction to the world of bass players through the International Society of Bassists. We learn how difficult it was at first for classically trained players to understand the relevance of Rabbath's way of playing to their traditional methodology and repertoire, and how he won over their hearts and minds.
We are given a wonderfully honest description of Rabbath's recording of all the Bach Cello Suites in Venice at the very beginning of the 21st century. It brings to light just how hard it was to marry the strictures of the recording studio and Rabbath's way of being with music. It was a tall order for him, as a musician used to playing as the music speaks to him at any given time, to produce music 'on demand' when the red light came on.
I cannot recommend highly enough this lovingly written story of the most exciting and revolutionary bass player of our times. What Bottesini was to the 19th century, Rabbath was to the 20th – indeed maybe more.
CATHY ELLIOTT