The double bassist was 60 years old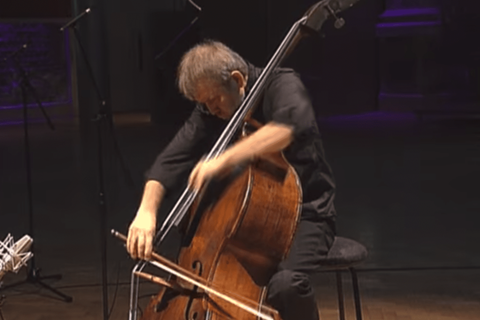 Rinat Ibragimov, the London Symphony Orchestra's Principal Emeritus Double Bass and father of violinist Alina Ibragimova, has died. He was 60 years old.
Raised in Moscow, Ibragimov, who was of Russian-Tatar extraction, studied the cello for ten years, before switching at the age of 16 to the double bass. He studied with George Favorsky at the Ippolitov-Ivanov State Musical Pedagogical Institute in Moscow, and with Professor Evgeny Kolosov at the Moscow Conservatory, where he also studied conducting with Dmitri Kitaenko.
On the occasion of Kolosov's 75th birthday, Ibragimov paid tribute to his former teacher. 'One of Kolosov's virtues is that he sees immediately your individuality and understands the way to development. During the lesson he always stays at your side, snuffles with approval… not like other teachers who wait for your mistakes just to punish you and enjoy their superiority,' Ibragimov wrote. 'Only once we had a conflict. Before the All-Soviet Union competition, he got nervous and busy. He offered me something I didn't like. I was always very polite with him and said that I wanted to play my own way. "You do what I say" - Kolosov insisted."'
Ibragimov ended up winning first prize in the All-Soviet Competition in 1984, as well as the Giovanni Bottesini International competition in Parma, Italy in 1989, before going on to play with several orchestras. He served as principal double bass of the Bolshoi Theatre Orchestra, the Moscow Academy of Ancient Music, the Moscow Soloists and the Soloists of the Moscow Philharmonic from 1983 to 1997, as well as teaching at the Moscow State Tchaikovsky Conservatory and its Central Specialist Music School. He was also artistic director and conductor of the Moscow Instrumental Capella.
In 1995, he moved with his family to London, where he took on a role as principal bass of the London Symphony Orchestra and taught at the Guildhall School of Music and Drama. In 2007, he began teaching at the Royal College of Music. Alongside this, he established a solo career, with a discography of repertoire ranging from Bach, Mozart, Schubert and Schumann to Dittersdorf, Koussevitzky, Smirnov and Vanhal. He also continued to conduct, coaching various Youth Orchestras.
In 2014, he suffered a stroke, which left him unable to to play, although he continued to teach at the Guildhall School of Music and Drama. As well as his daughter Alina, he is survived by his wife Lutsia and son Timur. Alina has withdrawn from tonight's BBC Prom, in which she was due to perform with Nicola Benedetti and members of the Orchestra of the Age of Enlightenment.
'A superb musician, inspirational teacher and wonderful colleague, [Rinat] will be much missed by everyone at the LSO', writes the orchestra on its homepage.