Georgian violinist Lisa Batiashvili has recently taken on new challenges, among them artistic directorship of the Audi Summer Concerts festival and performing on the soundtrack to The White Crow. But, she tells Toby Deller, she finds equal joy in creating wonderful interpretations from long-term partnerships
The following is an extract from the January 2020 issue. Click here to log in or subscribe. The January 2020 digital magazine and print edition are on sale now.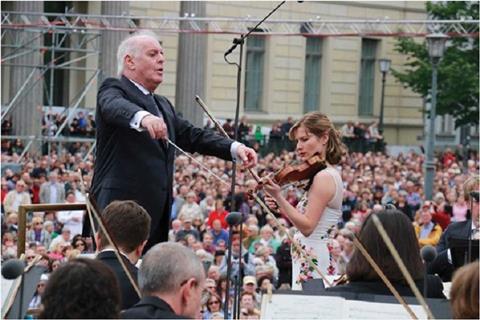 Some of Batiashvili's closest working partnerships as a violinist have been with conductors and, to a certain degree, orchestras (she was artist-in-residence at the New York Philharmonic, 2014–15, for example).
I recall her explaining during a previous meeting how important Christian Thielemann's contribution was to her interpretation of the Brahms Violin Concerto recorded with the Dresden Staatskapelle; and sure enough, on listening to the first movement of that recording you very much get the impression of an orchestra releasing her at her first entry – as one dancer might launch another into a solo – rather than merely setting the scene.
'They influence me a lot musically because of their personality,' she says about her favoured conductors more generally. 'It's not only about conducting and playing together; it's more an exchange. In the long term, with Barenboim for sure, you get a lifetime's lesson. But it's not only a lesson – it's two colleagues communicating with each other. That is due to respect, and to the fact that he likes to receive energy from younger musicians. Like Karajan. You know that all these fantastic musicians need more and more connection with young musicians as they get older. It's a mixture of his wisdom and his life experience connected to what is happening today and what is going to happen tomorrow.'
It was with Daniel Barenboim that she recorded the Sibelius and Tchaikovsky concertos with the Berlin Staatskapelle (2015–16). Another collaborator on disc is Yannick Nézet-Séguin, who accompanies her on the piano in Tchaikovsky romances on a 2013 release, and conducts the Chamber Orchestra of Europe on an all-Prokofiev disc (2018) featuring both concertos and some ballet arrangements for violin and orchestra by her father, Tamás. She and Paavo Järvi, meanwhile, are frequent partners in concert.
'With Yannick I have a very special friendship that gives me a feeling of being one family and breathing together. I also have a very long friendship with Paavo, and we connect in a different way: the Baltic countries [Järvi is from Estonia] and Georgia each understand on a political basis the fight for freedom, and for a better life enjoyed by the Western part of the world. The dream is to make it a reality and always to fight for it, even on a daily basis. I admire Paavo very much. Now that I know these conductors better, I have an idea of what to expect and how to make a start on any given project, depending on what and where we are playing.'
More unfamiliar was her work on a film soundtrack, playing Ilan Eshkeri's music for the film The White Crow (2018), in which Ralph Fiennes, directing, plays Rudolf Nureyev's ballet master. 'When you look at these images and you accompany them with your performance, it's not only about playing beautifully: you have to produce the emotion that the director wants to create in that scene. It's more than just an abstract feeling; it's really very direct.' It also gave her a new creative partnership to explore. 'Ralph Fiennes, of course, is such an incredible artist himself. So much more than just an film actor, he comes with his theatre experience as well and his incredibly interesting personality – he has so much to say. He even came to one of my trio concerts in London, and he loved it, apparently. We had an interview for Vogue, and I remember us speaking about very similar experiences on stage as a musician and as an actor.'
To read the full interview in the January 2020 issue of The Strad, in which Lisa Batiashvili talks about her collaborations with long-standing and new colleagues, click here to log in or subscribe.
The January 2020 digital magazine and print edition are on sale now.