The violist tells us what the lockdown has taught him about playing and teaching, and ponders the impact of the pandemic on the future of live music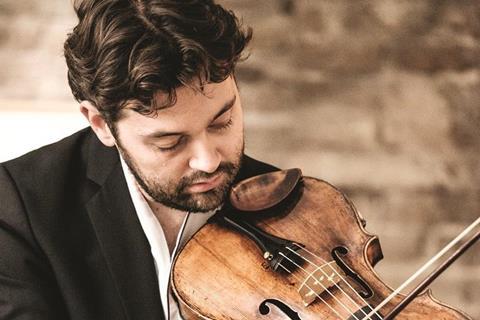 This is a period to be at home with the family and reboot on many levels, but the unknown nature of how long it will go on for is a big worry.
I'm quite philosophical about it – I'm very lucky compared with so many others. As a musician my income has been cut from one day to the next, but I can still teach online – I have a position at the Zurich Hochschule der Kunst, which gives me a security that many don't have, and I'm very grateful for that. Every day is spent making sure that home schooling is functioning, looking after the little ones – when you have kids it's all consuming.
Not having any deadlines to work to or repertoire we have to learn changes the nature of practice. It provokes interesting questions. What is practice for if there's no destination? That opens up a lot of creativity. We can explore the music in a freer, more relaxed way and enjoy our instruments differently, which could be a possible bonus from this period.
Over the years I've picked up so much music that I've not had time to sort, let alone play, so I'm enjoying going through it and exploring it with my students. This includes a collection of music that was written for the Paris Conservatoire Concours, which has just been published in two volumes by Schott.
Every year the conservatoire had a competition for which contestants would have to learn a specially written piece of music – by both famous and unknown composers. The collection goes back to the late-1800s and is a treasure trove of fantastic little concert pieces from the era that are designed to show off technique and beauty of sound. This is a nice opportunity to dive into things like that, which I wouldn't have time to otherwise, and to work on them with students.
I'm seeing the positives, but of course it's a strange time. Not knowing when you're going to work again is challenging. The dust is still settling on the situation, but we're not yet having the proper discussions about what things are going to look like for musicians post-Covid-19. I hope we will go back to being able to function and play concerts, but that may well not happen. It's going to go on longer than many musicians are willing to admit, and things will be very different when it eventually happens. We need to have that conversation.
In the meantime, what can we do to be relevant and useful? I'm asking myself about how I can be creative in my tiny little niche. I'm interested in inviting composers to write short miniatures to play on my doorstep to raise money for the places it needs to go – I was so inspired by Captain Tom Moore, the centenarian who raised £30m for the NHS by walking round his garden.
I can't get my head around how we're going to go back to travelling round the world as freely as before. A positive outcome might be that it means we have to focus our music making much more locally, in a community way. Luckily that's something I love anyway: I have my own festival, the West Wycombe Chamber Music Festival, and that's our ethos. It's small and put together at very short notice, but we have an amazing audience, and fantastic friends and colleagues do it on that basis.
I feel embarrassed that I don't do more locally, because I'm always going away to make music. This situation might force us to think. I'm sure that within a mile radius of where we all live, each of us could start a beautiful concert series. Maybe a by-product of this is that we have to engage close by. If I have to stay in one place, I would be happy to embrace that.
Most of us talk about wanting to engage with music at the grass roots level but we don't, because the job is rehearsing and playing, and if you have a family there's no time to prioritise other things, so I look forward to having the headspace to do that. It's our collective responsibility, and we can all do so much more. I could go to my son's school twice a week and do the one thing I can help with – teaching violin and viola and supporting their music education projects. Maybe we will all have more obligation to do that.
With everything that's going on across the world, I don't feel there's any necessary relevance for music. I feel privileged to do it because I love it, it's one of the most beautiful things to be involved with and it's the only thing I can do, but at the end of the day, it's just entertainment. Does it have more relevance than the day to day jobs that are keeping us alive at the moment? Maybe non-musicians who listen to music and see what we all do need it to get through, but I feel a little inconsequential at the moment.
One of the positives I'll take from this period is how creative and engaged you can be when teaching online. In a way, I'm more focused on my students now. When I go to Zurich to teach, I'm sometimes tired and I see all my students in one day, but now I'm seeing one or two in a day and the time is really effective. You can't hear their actual sound or play the piano for them, but it forces you to be much more concise with your words and to concentrate in a different way. I feel I can do good work with them. Usually when I'm travelling, I have to catch up with lessons, but I realise now that I could have given my students a lot of help when I was away, from a hotel room.
We tried a Zoom class concert, but it didn't quite work so I'm just doing it one to one, and other students can watch on mute if they want. It's good for the students – it gets them through this difficult period of having no contact with student life. We've put together some fun, creative plans. I calculated that if we do two Kreutzer etudes a week, working on them really properly, by September we will have got through all 42, so that's a nice time frame to work towards.
Power's next CD, featuring James MacMillian's Viola Concert, comes out in June on the Hyperion label: https://www.hyperion-records.co.uk/dw.asp?dc=W21710_68317