In honour of John Williams's 90th birthday today, here's an extract from April 2020, where violinist Anne-Sophie Mutter spoke to Charlotte Smith about her new recording collaboration with the renowned film composer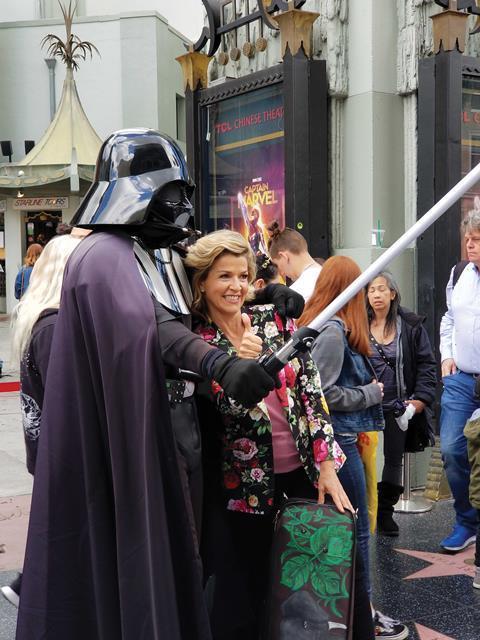 Photo: Private collection/DG
Meeting Darth Vader in Hollywood
The following is an extract from 'Anne-Sophie Mutter: The Big Picture' feature in our April 2020 issue. To read in full, click here to subscribe and login. The April 2020 digital magazine and print edition are on sale now.
Music has to do with memories because usually you don't listen alone. There is a story involved – either between lovers or families or friends. It brings people together because we don't simply play together; we listen together too.'
Anne-Sophie Mutter is speaking to me about Star Wars. At first glance, the connection between one of the world's leading musicians and the popcorn classic is not an obvious one. But Mutter, it turns out, has been a dedicated fan of the movie franchise, and particularly the scores by John Williams, since falling in love with the first film – now subtitled A New Hope – when it was screened at her local cinema in Germany's Black Forest in 1978. So last year's collaboration with Williams on Across the Stars, an album of his film themes, personally recomposed for solo violin and orchestra, was not, in fact, an idle foray into populist waters, but the culmination of a lifelong relationship with his music, and, like all her projects, the product of a deep and special connection.
'When Star Wars came to our little cinema it was as epic as the Ring cycle,' she enthuses. 'The score is so rich and persuasive, and so personal, that your subconscious is constantly fed with information about the characters while your eyes are entertained.
'I was so nervous when meeting John Williams in March 2019 to work on this project. For me, he is one of the greatest composers of our time and from my side, this was a collaboration carried with an enormous amount of respect for this gigantic musician.'
For Mutter, this 'personal' aspect is key: Williams's epic film score spoke to her directly as a teenager, just as the Beethoven Violin Concerto did when she first heard the work performed by Yehudi Menuhin conducted by Wilhelm Furtwängler on LP. Now in her mid-fifties, and deeply immersed in a year of exclusive Beethoven performances for the composer's 250th anniversary, Mutter, it seems, can chart much of her life through his music.
From her early recording of the Violin Concerto as the protégée of Herbert von Karajan, to the maturity of her late-1990s recordings of the complete violin sonatas with long-term pianist collaborator Lambert Orkis, to her chamber concerts this season with her young Anne-Sophie Mutter Foundation apprentices, this latest project is, again, a highly personal affair.
Mutter's association with Williams has been an anchor in her career, whose partnership she compares with that of Karajan. 'I worked with John for three days on his recompositions and the level of detail involved was unbelievable. He would rewrite the violin part or orchestration as we went, and we would discuss such specifics as the lengths of notes at the ends of phrases, whether they should be a crotchet or a quaver, and with or without a dot. I came home and told my children that I had learnt an incredible amount!'
This article was published in the April 2020 Anne-Sophie Mutter issue

The German violinist discusses dedicating herself to Beethoven in 2020 - and why John Williams is one of the greatest composers of our time. Explore all the articles in this issue.

More from this issue…