Ahead of today's launch of a new streamed concert series, 'The Polyphonic Concert Club', the violinist describes the experience of performing during lockdown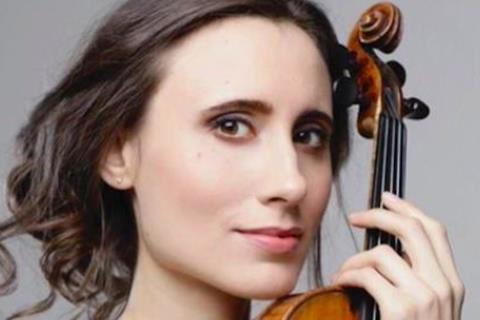 Walking into St George's in Bristol brings back many happy memories of past concerts – Elgar and Sibelius concertos and recitals over the years – so it always feels welcoming to return. This time, after a year of lockdown and brief false awakenings, I am standing on the stage with no audience except the TV crew from Polyphonic Films. Like so many of us I am missing colleagues, friends and family and so a highlight of the day was not only the chance to make music in a beautiful space, but to meet the film crew (socially distanced of course!). Meeting new people suddenly takes on a new importance – now the smallest interaction or conversation becomes more uplifting – even a socially distanced one.
The silencing of concert halls has of course presented a huge challenge for musicians and audiences and after over 20 years of performing it was an unsettling sensation to be without the rush of adrenaline that comes with being on stage. The special moments on the concert platform over the last year have shown me how much I have missed making music with colleagues and the energy and buzz of a hall filled with people. Back in October, it was wonderful to return to the stage of Wigmore Hall to play to an audience, even if only at 20% capacity. After the concert, having spent so much time away from a live audience, I remember I felt I had reconnected with a lost part of myself. I am looking forward to stepping out on to that stage once again on Monday, even if to an online audience. In a way concerts have become even more special to musicians now as they realise this outlet of expression for performers and audiences alike is so vital for the soul to sustain us in dark times. Last year, at the time of London's Let Music Live protests, it felt particularly special to perform on the steps of Manchester's Central Library alongside Vanessa Redgrave and Andy Burnham to draw attention to the plight of performers as a result of the pandemic and its devasting impact on the performing arts.
The positive moments over the last year have included the chance to re-evaluate and reflect on the importance of music and why I was drawn to the violin, and also the incentive to invest in things that make me tick outside of music such as reconnecting with old friends, thinking up new recipes and drawing. There have been many times where I have realised that being creative has been a great escape and distraction from the ever-present pressures we feel in current day-to-day life.
Having to rely on bringing music to people online remotely from an empty hall has been a great challenge never-before faced by performers. Playing your instrument at home is a very difference experience to performing to other people – in the practice-room you often need to be your own teacher and audience, and sometimes require an objective mindset in order to improve and develop. On the platform, however, you are a performer - and must feel free to express, be spontaneous and transform that inner voice. That is where the audience helps to lift you into another realm of music- making, and sensing the energy of an audience can create some magical moments.
Watch: Violinist Jennifer Pike and broadcaster Andrew Green discuss The Lark Ascending
Read: Jennifer Pike awarded MBE
Read: Jennifer Pike: Life Lessons
Playing to an online audience in these difficult circumstances is a new experience and trying to recreate the electric atmosphere brought by listeners in the concert hall presents many different challenges. But even in these strange times, cut off from normal life and interactions, it is a lifeline to be able to bring music to people from all over the world. Now, ironically, we are probably reaching more people through broadcasts and streams than we ever did before, and quite possibly more younger people too. I feel that more people are listening because they need the respite, the escape and the healing that music can provide. For me however, whilst nothing can replace the feeling of playing to a live audience or sitting in the hall as an audience member, when halls are allowed to reopen I am sure there will be a positive legacy from the way we have created new ways of reaching people online and that these two worlds will co-exist and support eachother.
For this inaugural concert of the Polyphonic Concert Club, I wanted to present a programme which has something for everyone. With pianist Petr Limonov, we chose to open with a Mozart Violin Sonata (K.301), a piece I love performing due to its sunny optimism and the way the musical the ideas are shared between the instruments, which looks forward to Beethoven's 'Spring' sonata. We also explore some Polish music I am especially passionate about. Last week I was glad to be back in the studio to record Szymanowski's Sonata, the Lullaby and his arrangements of Paganini Caprices on Chandos, following up on my previous album with Petr Limonov, The Polish Violin. Here in Bristol we have incorporated the Sonata and one Caprice alongside the little- known Lullaby by Szymanowski. It was composed some 20 years after his youthful, passionate sonata, with its frantic tarantella at the end. It inhabits a different world, haunting and hypnotic, suspended in time as the gentle rocking repeats over and over.
The Lullaby has an intimacy and solitude which the camera crew have skillfully caught on film. The sense of time passing by is evocative of our own current predicament of life on hold. The Szymanowski-Paganini caprices are great fun to perform and you get the sense Szymanowski relished unleashing the piano on this well-loved violin repertoire! The sound captured by Polyphonic is extraordinarily faithful to the beautiful acoustic of St George's and after the intensity of the Szymanowski, we send the audience off with the Méditation from Massenet's Thaïs.
For more information on The Polyphonic Concert Club, click here.