The British-Polish violinist has been awarded an MBE for services to classical music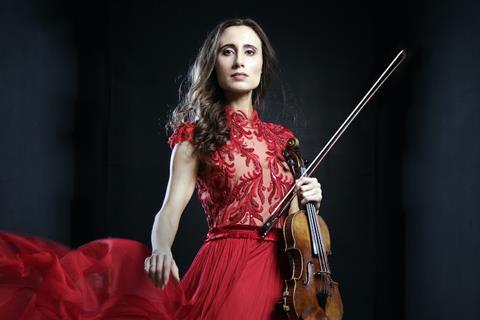 The British-Polish violinist Jennifer Pike has been awarded an MBE for her services to classical music.
In addition to her busy international solo career, Pike has devoted much of her time to working with charities across the UK, currently acting as ambassador for organisations including The Prince's Foundation for Children and the Arts, The Prince's Trust, London Music Masters, City Music Foundation and The Wellspring .
Ever since springing to fame as the youngest ever winner of the Young Musician of the Year award in 2002 (aged 12), she has worked hard to spotlight lesser-known and under-represented composers throughout her career. In 2017 she curated a 'Polish Music Day' at London's Wigmore Hall, featuring specially-commissioned works from Polish composers. Her work with contemporary composers also includes personal commissions from the likes of Hafliði Hallgrímsson, Andrew Schultz, Charlotte Bray and Dani Howard. Outside of Western music, she continues to collaborate with celebrated sarod players Ayaan and Amaan Ali Bangash on a special Bach and Khan programme.
Earlier this month, Pike performed on the steps of Manchester Central Library with Vanessa Redgrave and Andy Burnham to shine a light on the difficulties facing the arts sector in light of the COVID-19 pandemic, and will return to the Wigmore Hall on 24 October to perform Polish contemporary works alongside well-loved classics of the violin repertoire.
Jennifer Pike said: 'I am honoured to receive an MBE for Services to Classical Music. Performing has been my life for over 20 years and I have been privileged to have been a part of the fabric of the performing arts, such a vital part of our identity, and experienced the impact it has on the world stage.
Read: Jennifer Pike: Life Lessons
Read: Jennifer Pike on getting to the heart of The Lark Ascending
Watch: Violinist Jennifer Pike performs Mendelssohn at BBC Young Musician Final aged 12
Creativity, music and the arts have been a part of our culture and a human need for thousands of years, giving us hope, expression and meaning to our lives. Music is a part of our daily life in ways that is sometimes easy to miss, whether part of life's great celebrations, a score to our favourite film, or simply a birthday song we sing whilst washing our hands!
Not only do the Performing Arts contribute billions to the economy but it also gives us the power to connect and heal as a nation, which will be a vital lifeline to so many after this pandemic. Freelance musicians, orchestras and so many behind the scenes are the foundation of our culture and will be at the core of our national recovery, and I appeal for support at this time to save the arts in Britain. I will continue to serve Classical Music and with this award I hope to highlight the enormous benefits that it can bring to our society.'