Inspired by Venezuela's El Sistema, China's Wings of Music aims to bring dignity and self-belief to some of the country's most deprived children. Nancy Pellegrini reports in this article from 2013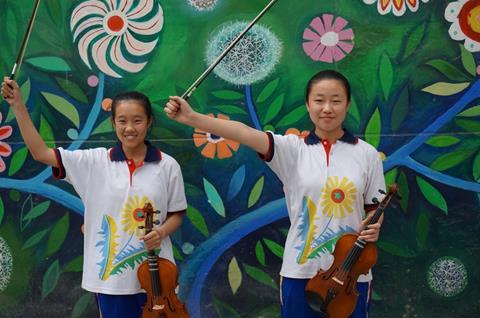 This article was originally published in the August 2013 issue of The Strad.
In December 2008 conductor Gustavo Dudamel brought the Simón Bolívar Symphony Orchestra to Beijing's National Centre for the Performing Arts (NCPA), unleashing a Mahler First Symphony that had the normally staid audience leaping to its feet. But even more impressive than the orchestra's sound was its origin: the Venezuelan musical miracle known as El Sistema. Thanks to a government sponsored programme providing underprivileged children with free instruments, this famed project has ignited dreams and inspired similar experiments around the world. By March 2009 the Beijing-based project Wings of Music (WOM) was born. For Chai Liang, head of the violin department at Beijing's Central Conservatory of Music and co-founder of WOM, the NCPA event was an epiphany. 'I was blown away. I'd never heard any concert like that – the level of the music, the way they were dressed.' But starting a Chinese version of El Sistema was easier than he thought. Just a casual mention at a dinner party yielded RMB10,000 (£1,000) in pledges from each of the ten guests. 'The Chinese like to give to charity,' he states. 'They just want to be sure of where their money is going.'
As he began recruiting teachers from the city's many orchestras, his student Chen Qian joined the project as WOM supervisor, which involves buying the music, fi nding the students and negotiating with dealers for free or affordable instruments. 'I knew she'd be great at this,' Chai says. Professional yangqing (hammered dulcimer) player Jiemin Kong serves as WOM director and was the programme's fi rst percussion teacher. 'She graduated from the Shanghai Conservatory,' says Chai. 'She could earn three times as much somewhere else, but she treats the children like they're her own.'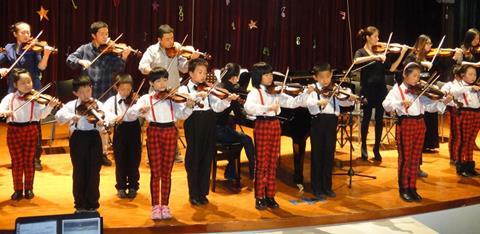 Venezuela's El Sistema pulls its charges out of slums that suffer from dizzying rates of both crime and incarceration. China's massive cities are surprisingly clean and safe, but plenty of their marginalised, impoverished shadow-dwellers desperately need the kind of spiritual and emotional uplift that music can bring. China is home to 200 million migrant workers, known derisively as waidi ren (outsiders), who stream into the big cities from poorer provinces seeking triple their village wages and doing menial, dirty or dangerous labour. This is partly because of the country's hukou system, a residency card that acts as an internal passport or work visa. The system dates back to ancient times, but in 1949 the new government revitalised the practice as a way of controlling population and restricting travel. As recently as a decade ago, people caught working outside their home province could face arrest and deportation. Today, movement restrictions are considerably looser – with China's skyrocketing economy, someone needs to run the restaurants, fix the cars and build the motorways. However, once ensconced in urban centres, migrant workers lack access to the same public education and services granted to those they serve.
Indeed, China's migrant-worker phenomenon has been called the largest peacetime migration in human history. Some house their children, or 'left-behinds', with relatives and attempt to make annual visits (as depicted in the documentary film Last Train Home); others uproot their families to follow factory work or construction jobs, changing their children's schools along the way. Although China provides free compulsory education until the age of 16, public schools often lack the resources, space and – at times – egalitarian attitudes that might welcome migrant children into their folds. Policies vary between districts, but even city-dwellers attending schools outside their hukou areas can pay prohibitively high taxes. And although the government is making great strides to solve the problem, it remains a logistical and financial quagmire. There is an alternative – schools specifically for migrant children – but standards vary widely, and even the best ones can disappear overnight after decades of operating without a licence, leaving thousands of children without their support network of teachers and friends.
It is this sense of insecurity and instability that WOM seeks to address. 'The most dangerous result of poverty is not hunger or displacement,' says WOM supervisor Chen. 'It's having no identity, no sense of dignity. We hope that learning classical music will give them self-esteem and a richer spiritual life, not to mention learning about cooperation, trust and friendship.' Jonathan Hursch, founder and executive director of Included, a programme setting up community centres for migrant families, applauds WOM for exposing children to something usually seen as a luxury. 'We so often provide our second best to the weakest and the poorest in the community, but we need to honour them with our best – they've already lost so much,' he says. 'In Beijing they're on the fringes. This initiative can bring them into the centre, saying, "You belong here with us."' Kong agrees. 'These kids are mostly from the countryside, they don't have for the high-school entrance exam, and for Dandelion's WOM students, that meant giving up one precious day of playing. But when the teachers headed to their weekly staff meetings, students Tian Jia and Tan Xinxin sneaked out of study hall to practise violin. 'Before I came to this school, I had only seen people learning music on television,' Tian says. 'My family is not rich – I never thought I would be able to learn music. When I fi rst started playing, it didn't sound good and the neighbours would complain, but I kept going,' she adds. 'Now I hope to continue music as a career.' Tan Xinxin agrees: 'Music has an incredible power to make you feel happy,' she says. 'Playing violin adds a great dimension to my life, and it's also teaching me about problem solving. Before I started, I would just play with my friends or do my homework, but now I have this special thing to do. I carry myself better. I look better. And I can practise with my best friend.' What about best friends getting caught practising when they should have been studying? 'We had to write a self-criticism, an apology in our journals,' says Tian. Do they still sneak out to practise? 'Of course!'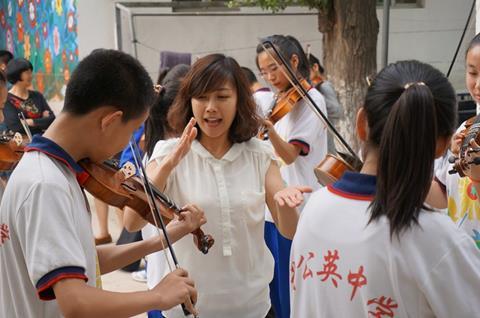 WOM started its music lessons in a garage, Chen recalls. 'It was hot in summer and cold in winter. The students' hands were raw, but they were still practising. They have the most intense desire for knowledge.' She remembers one student promising to take care of his instrument 'like his own life', and receiving a letter that still moves her to tears. 'The student said: "I was so excited when I saw musicians on television play on those shiny violins, and fi nally, after so much waiting, I had my own instrument. My heart, my mind, my body, my soul felt this incredible love for the violin and the wonderful feeling of a dream come true."' The schools sometimes take a little longer to be convinced of WOM's benefi ts. China's hyper competitive education system expects copious hours of study and 'playing for fun' can seem like a dangerous waste of time. Some headteachers lack vision, and some teachers just see extra work involving a project they don't understand. However, when Kong and Chen find an enthusiastic headteacher, they count on that school's music teachers to bring the other staff members round. 'As the programme continues, they can see it brings a good reputation to the school,' she says, adding that musicians from the Xing He school, another of WOM's success stories, won first prize in the Chaoyang District Migrant Arts Festival. 'Gradually they get more supportive.'
Dandelion and Xing He are only two examples. In four years, WOM has reached 600 students in six schools. Although one of them, the BN Vocational School, is thriving, having secured funding from businesses that also participate in the teaching, another Beijing institution, Lu Bo, fell victim to the mass government closures that plague migrant schools, meaning that the chorus and string orchestra that WOM ran at the school ceased to function. 'The children are all at different schools now, but we still get SMS greetings every Chinese New Year,' says Chen. 'They were eight or nine years old, but music is a shining memory in their lives.'
That's even more the case with Chaoyang-based Angel Training School, which works with orphans. 'They are more lonely than the migrant children, and they speak even more quietly,' says Chen. 'But we are not just training musicians – we are teaching children to have high self-esteem and become spiritually rich.' And although for logistical purposes, Chai wants to keep WOM in Beijing, six teachers spent two months teaching singing, dancing and basic rhythm in Sichuan province's San Tai village – a place heavily damaged by the 2008 earthquake, and one that volunteers and reconstruction efforts seemed to overlook. When Chen asked some of the 400-plus 'left-behind children' about their dreams, she was disturbed. 'Most didn't even understand the concept of dreams,' she says. 'WOM wants to use music to build up their inner bridges, to teach them a new language and expression.'
Chai insists that WOM is not looking to expand, but to ensure that funding is consistent so that no child falls victim to budget cuts. And although they are not trying to produce a concert soloist, they would still sponsor a remarkable talent to attend a conservatoire. But again, that's not WOM's big picture. 'It's not a music programme – it's a social programme,' says Chai. 'Music is important – you can see it in their eyes. When they're 70 years old, they can tell their kids: "I played Beethoven."' And sometimes, that's enough.