As social distancing causes unprecedented disruption to concert schedules around the world, several soloists share their coping strategies and plans for the future.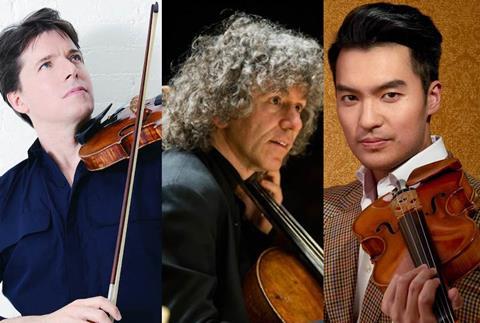 Guy Johnston
Johnston was forced to cancel the final concert of his UK tour with fellow British cellist Sheku Kanneh-Mason and fly home to upstate New York, but had to leave his cello back in the UK.
'It was the last day you could travel and ticket prices went through the roof so I left the cello with my parents. It's not the end of the world because all my concerts are cancelled and I can borrow my wife's cello for teaching.
'At Eastman we're all being encouraged to use Zoom to continue teaching online. Thankfully I've got it all on my computer and Eastman is taking me through the steps.
'Having a purpose is important. It's what keeps us going. I've told my students to watch online resources to keep motivated, listen to lots of recordings, practise and try to keep busy.'
Elena Urioste
Urioste and her husband, British pianist Tom Poster, have been keeping themselves busy taking requests for daily videos on social media
'Tom suggested that we reach out to friends and fans and take requests for music they might like to hear in the coming weeks. This was meant to be a purely fun project, something to brighten people's days and take their minds off of the pandemic.
'At the moment, keeping in shape by arranging and learning a new piece each day is enough to keep us busy, but who knows — isolation has a funny way of sparking creativity!'
#UriPosteJukeBox
Steven Isserlis
Isserlis has been busy practising, writing, and stepping out of his comfort zone to present a children's concert online
'I've got practice to do, three sets of sleeve notes to write and somebody's asked for an article about why music is important at times like this, so there is a lot to do. So far every hour of every day is full.
'One of the pieces I've been practising is the original version of the Strauss Sonata which I'm supposed to be giving the public premiere of in June. I'm also practising a Boccherini concerto which I love. It's so gentle and elegant, smiling and lovely.
'Both my sister and a friend suggested doing a children's concert and I couldn't believe the enthusiastic response when I suggested it on social media. I don't have any further plans for online concerts but I'll see how it goes.
'Of course the financial situation is terrible and the cancellations are terrible, but musicians have something we love doing that we can do without other people, so in that way I suppose we're lucky.'
Fenella Humphreys
Humphreys has been on a steep learning curve setting up online streaming.
'I'd never done a livestream and I don't know much about technology, but I knew that I'd need an outlet, and that there would be plenty of people who would need their live music fix. It's really strange to try to get into a concert mindset in the place where I usually practise, and to be playing to a phone rather than to live people, but I like a challenge!
'I can't imagine a life without practising and making music, so I'll keep going even if there's no external reason.'
https://www.youtube.com/channel/UC_JlM05leyWyMXxUjiZBn6w/featured
Joshua Bell
Joshua Bell has been treating the suspension of his concert schedule as an enforced sabbatical
'I've been doing what I've always wished I could do which is to start every day with Bach. I'm not a religious person but Bach makes me feel connected to something very spiritual, so it's incredibly therapeutic. I'm also making my way through some of the Ysaye sonatas that I never had a chance to study. I don't know when I would have had time to do that otherwise. I'm practising just for my own learning and indulgence, and during those moments I forget about the horror of what's going on.
'I have three boys and it's been amazing to spend time with them, so that's also been a blessing. Even if the world goes back to where it was, I think I'll look at everything with a different perspective.'
Ray Chen
Australian violinist Ray Chen has always been an active presence on social media, but over the last few days he has created an online community on Discord. Used primarily by the gaming community, Discord enables audio, video and text communication over chat channels or, in the case of Chen's server, 'practice rooms'.
'Practice is so difficult, especially in quarantine - what is there to practise for? We've set up virtual practice rooms for people to play in. People practise on here for themselves but also for a chance to be reviewed by me online. The community is really positive with people giving each other advice. I can't think of a better way to address the practice motivation issue.
'This community is like social media on yet another level. With the current situation people need to feel connected.'